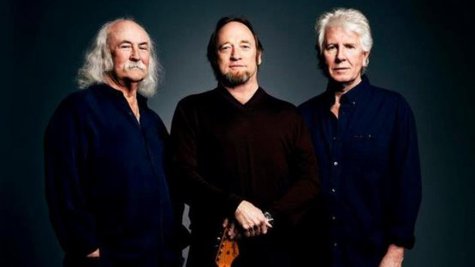 Crosby, Stills & Nash will headline the second annual Light Up the Blues Concert , a fundraiser for the Autism Speaks organization that will take place April 5 at The Theatre at Ace Hotel in Los Angeles. The benefit event, which is hosted by Stephen Stills and his wife, Kristen , also will feature performances by ex- Eagles guitarist Don Felder , John Mayer , Brandi Carlile and Stephen's son Chris , among others.
Tickets for the show will be available for purchase starting this Saturday at 10 a.m. PT via Ticketmaster outlets and Ticketmaster.com.
"We are so thrilled to be doing this again," Stephen and Kristen Stills say in a joint statement. "Last year's Light Up the Blues benefit was such an incredible event, life changing for all involved. We are so grateful to be able to bring such a special night of music to the Autism community and to support Autism Speaks." The organization funds research and supports advocacy efforts for people affected by the disorder and their families.
The concert is scheduled to coincide with Autism Awareness Month and promotes Autism Speaks' annual Light It Up Blue campaign. As part of the initiative, which kicks off on April 2 -- World Autism Awareness Day -- many homes, businesses, buildings and landmarks replace their white light bulbs with blue ones to help promote the cause.
Copyright 2014 ABC News Radio