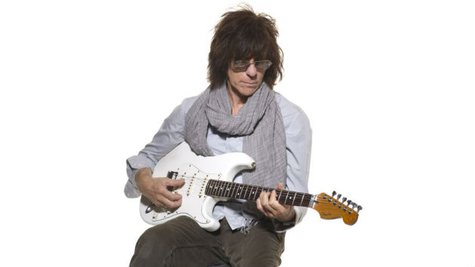 After wrapping up his joint tour with Beach Boys mastermind Brian Wilson last fall, Jeff Beck now is setting his sights on finishing a new solo album. The guitar legend tells Rolling Stone that he's developed a whole new sound while working on the project, although he's reluctant to reveal too much about it.
"I think I'd rather save the surprise," he notes. "But it's not Western style, if you know what I mean."
The British blues-rock virtuoso says that, for a number of reasons, the new record is "a very important album for me."
Beck explains, "I think I've drawn attention. I've worked, worked, worked for the last three years. Now is the time really." He adds that, with his 70th birthday approaching this June 24, "I thought it was time for a really, really good studio album I had control over and time to do properly instead of a budget problem."
Jeff is planning to have the album completed by the time he launches his 2014 world tour on April 4.
"We've done most of the track cutting in big studios," he reports about the record, which will be his first studio effort since 2010's Emotion & Commotion . "We're now off mixing, overdubbing and aligning stuff -- all the crap you have to do with Pro Tools."
Meanwhile, Beck eventually will be appearing on another upcoming album, Wilson's in-the-works solo project, but he tells Rolling Stone "you better ask Brian" about when that record will see the light of day.
"We left the studio with half-finished tracks -- three, four tracks I was supposed to be on and they're still unfinished," he explains. Jeff says he feels "it was a bit stupid" that Wilson and his camp scheduled their joint tour before the record was completed.
"They should have done the album, had a killer album, and then gone out on the road," he maintains. "But I think they wanted to grab me while I was still available."
Speaking of joint treks, Beck says he wouldn't be against hitting the road with his one-time Yardbirds band mate and old friend Jimmy Page . However, he points out that the Led Zeppelin legend is a hard man to pin down.
"If you could talk Jimmy into appearing somewhere," declares Jeff. "He appears at the most unlikely events and then disappears again."
That being said, Beck notes that he and Page "have such a great laugh when we're together and if he ever comes up for grabs, then it'd make a good package."
Beck's 2014 tour schedule is mapped out all the way through late July and includes shows in Japan, Australia, South Korea, the U.K., Ireland and mainland Europe. No word yet if he's plans to visit North America this year.
Copyright 2014 ABC News Radio