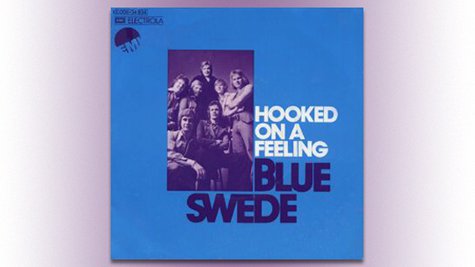 Last year, sales of Badfinger 's 1972 hit "Baby Blue" soared after it was used to soundtrack the final episode of Breaking Bad. Now, another hit from the seventies is also experiencing a sales surge, thanks to another highly anticipated pop-culture moment.
Billboard reports that Blue Swede 's "Hooked on a Feeling," the 1974 #1 hit with the unmistakable "ooga chacka" chorus, has seen sales explode thanks to its inclusion in the trailer for the upcoming Marvel superhero film Guardians of the Galaxy, which debuted this week during Jimmy Kimmel Live . According to Billboard, sales of the track immediately increased by 700% after the trailer was released. The week before, it had barely sold anything.
The "ooga chacka" chorus can be heard about a minute and 30 seconds into the trailer, and then again during a later montage. The song itself then plays over the final 20 seconds. The movie, which stars Chris Pratt, Zoe Saldana , Vin Diesel , Lee Pace, Bradley Cooper , Glenn Close and more, hits theaters August 1.
This is actually the second time "Hooked on a Feeling" has experienced a sales surge thanks to its use in an unexpected place. Back in 1998, the song returned to the chart after it was used in the Fox series Ally McBeal to soundtrack the titular character's hallucination of a dancing baby.
Guardians of the Galaxy director James Gunn caught wind of the Billboard story, linked to it on Facebook , and wrote, "Hilarious."
Copyright 2014 ABC News Radio