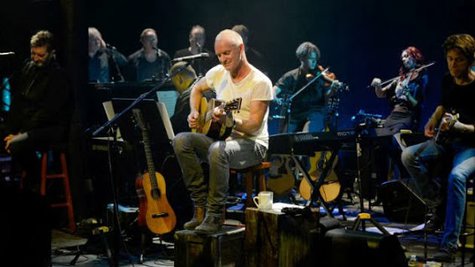 The Last Ship , Sting 's first attempt at a musical, will hit Broadway on October 26, but you can get a preview Friday night when he appears in a special edition of the PBS series Great Performances that features him performing the songs at an intimate New York club. The program premieres at 9 p.m. ET on select stations; check your local listings.
Sting taped the concert on October 2, 2013, his 62nd birthday, at the Public Theater in New York City. Speaking to reporters about the PBS special not long ago, the former Police frontman explained that he wanted to perform the Last Ship songs on stage himself because he wasn't quite ready emotionally to turn them over to the cast of the musical.
"I imagine that I'm going to have a kind of postpartum depression, handing these songs completely over to actors, which is why it was important for me to sing these songs in the show," he said. "So, I basically played all the characters, apart from one or two and, you know, claimed ownership of them. So now I can happily launch those songs into the ocean and let other people take charge!"
Of course, Sting isn't the only rock star who's tried his hand at a Broadway musical -- some have succeeded, like Elton John , some have failed, like Paul Simon . Sting has a theory that musicians tend to be drawn to the idea of doing Broadway shows because they spend their lives writing very short pieces of music, and the idea of stretching things out a bit intrigues them.
"I think that if you've made a living at making three-minute [or] four-minute narratives, I think you are challenged by attempting at least to write a longer narrative," he explained. "And so it's not a surprise that people in my business want to attempt it." However, Sting notes that doing a Broadway show is "an extraordinarily difficult thing to pull off," because "there are so many moving parts" -- including actors, dancers, directors, choreographers and the like.
"You only have a certain amount of control over the end product," says the Grammy-winning star. "But as a collaboration, it's an incredibly intense and exciting thing to try. But I never thought it was gonna be easy!"
As previously reported, The Last Ship was inspired by Sting's childhood growing up in a shipbuilding town in the north of England. Set in the 1980s, it tells the story of a man named Gideon, who leaves home and chooses not to go into shipbuilding like everyone else in his town. When he comes back 14 years later, the shipyard's future is in grave danger, and his childhood sweetheart is engaged to another man.
"Telling a personal story and telling a personal story that will also mean a lot to a lot of people is important to me," Sting says, explaining why he feels everyone will be able to relate to The Last Ship. "I think there are universal messages in these songs. You know, any city with a postindustrial experience will understand what it's like to be without work. And that's increasing more and more in the West."
Here's the list of songs Sting performs on the Great Performances :
"The Last Ship"
"Shipyard"
"Coming Home's Not Easy"
"And Yet"
"August Winds"
"What Have We Got?"
"Practical Arrangement"
"What Say You Meg?"
"Dead Man's Boots"
"Big Steamers"
"Sky Hooks and Tartan Paint"
"Jock the Singing Welder"
"So to Speak"
"Show Some Respect"
"Underground River"
"The Last Ship (Reprise)"
Copyright 2014 ABC News Radio