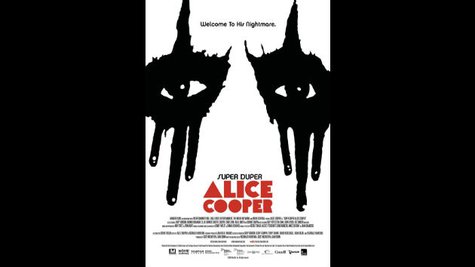 The official trailer for the new Alice Cooper documentary, Super Duper Alice Cooper , has premiered on YouTube and at AliceCooper.com . The movie, which will open in theaters this spring, follows the shock rocker's story, from his childhood as the son of a preacher to his transformation into one of rock's most outlandish frontmen to his struggles with alcohol abuse during the 1970s and his reemergence as a clean-and-sober elder rock statesman.
The clip features a variety of archival concert clips and photos, with voice-overs by Cooper and some of the members of his original band. In one segment, Alice reflects on how the group was perceived following an infamous 1969 incident at a concert that involved the demise of a live chicken. "Here comes this half-girl, half-guy, half-alien band that killed chickens," he notes. "All of a sudden we were the most notorious band on the planet."
Super Duper Alice Cooper is the latest movie from Banger Films, the Canadian production company that also brought us Rush: Beyond the Lighted Stage , Metal: A Headbanger's Journey and the Metal Evolution TV miniseries.
Copyright 2014 ABC News Radio