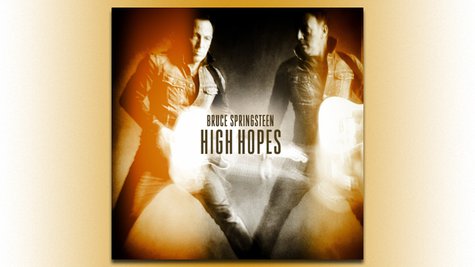 Bruce Springsteen fans will be able to enjoy a preview of the New Jersey rocker's upcoming album, High Hopes , in the coming days by visiting CBS.com and by tuning in to the network's popular series The Good Wife . At 10 p.m. ET this Sunday, at the end of that evening's episode of the show, a sneak peek at the following week's The Good Wife will air featuring music from High Hopes . Afterward, fans will be directed to CBS.com/Springsteen, where the entire album will be streaming through Monday, January 13, at 7 p.m. ET.
In addition, three songs from High Hopes -- the title track, "Hunter of Invisible Game" and "The Ghost of Tom Joad" -- will be featured in the January 12 installment of The Good Wife .
"We love using music in The Good Wife , and we always have the music inform the action and the cutting," explain the series' creators, Robert King and Michelle King , in a statement. "So when the Bruce Springsteen songs became available, we couldn't believe our luck. We wished we could use the whole album."
The episode, titled "We, the Juries," focuses on a difficult legal battle undertaken by the two main characters -- lawyers Alicia Florick, played by Julianna Margulies , and Will Gardner, portrayed by Josh Charles . Each attorney represents half of a romantically involved couple charged with drug smuggling, and complications arise when the lawyers demand that their clients are tried with separate juries.
As previously reported, High Hopes , Springsteen's 18th studio effort, will be released on January 14. The 12-track collection features Rage Against the Machine guitarist Tom Morello on eight songs, and also includes contributions from late E Street Band members Clarence Clemons and Danny Federici .
The Good Wife airs Sundays at 9 p.m. ET/PT.
Copyright 2014 ABC News Radio