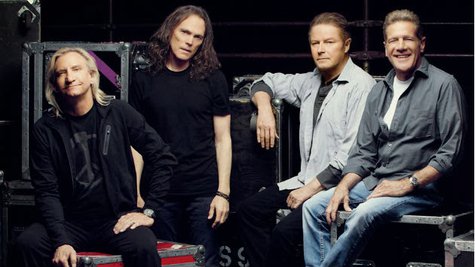 The Eagles have released some big records during their long career, but nothing like this: A gigantic vinyl replica of 1977's Hotel California album has been erected on the roof of the newly renovated Los Angeles-area venue The Forum in honor of the band's upcoming six-show residency there. The Pop2Life promotion company created the massive disc -- said to be the largest vinyl LP ever built -- which is 407 feet in diameter and covers a total of 5.7 acres.
While the humungous LP can't be played, it does spin, at 17 miles per hour. It took a crew of 75 workers 10 days to assemble, and was unveiled on New Year's Day. The maxi-album will be visible to hundreds of thousands of travelers who'll be flying into and out of Los Angeles' LAX airport. According to The Forum's general manager, Nick Spamanato , the giant album will be on display until the first week of February.
The Eagles' engagement at The Forum, which begins on January 15, also marks the official reopening of the venue, which closed in 1999 after 32 years of hosting many of the world's biggest music acts. The band's five other shows there will take place on January 17, 18, 22, 24 and 25. The concerts will be part of the group's ongoing History of the Eagles Tour .
When The Forum reopens, it will be the largest indoor venue in America built specifically for music and live entertainment, with a capacity of 18,000 concertgoers. The Forum is located in the L.A. suburb of Inglewood, California.
Copyright 2014 ABC News Radio