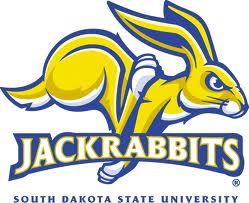 FORT WAYNE, Ind. – Brayden Carlson scored a career-high 24 points, but South Dakota State came up the short end of an 82-75 game at Fort Wayne on Saturday, snapping the Jackrabbits five game overall winning streak and eight game winning streak against the Mastodons.
The loss drops the Jackrabbits to 9-8 on the season overall and to 1-1 in The Summit League, while the home standing Mastodons improve to 14-5 overall and to 2-0 in league play.
"We've had a pretty good run with these guys, our players knew about it, we knew they were gonna come after us, and they did we just didn't respond," head coach Scott Nagy said. "I think when you look at offensive rebounds alone; we had four, they had 12. Rebounds was 26 to 39, the points in the paint, those are all the tough stats and they won all of them, we didn't deserve to win the game."
IPFW outscored the Jackrabbits 42-16 in the paint and scored 16 points off the Jacks 13 turnovers, while SDSU scored six points off eight IPFW turnovers.
Jacks scored the first five points of the game, but IPFW scored next eight, part of a 12-2 run that gave the Mastodons a 17-9 lead with 12 minutes, 4 seconds left in the first half.
Carlson stopped the bleeding with one of his three first half 3-pointers, the last of which tied the game at 42 with 1:20 to play in the frame. IPFW scored the final bucket of the half to take a 44-42 lead into the locker room.
The Mastodons scored the first five points of the second half to extend their run to 7-0, but SDSU came back with a 10-0 run, highlighted by a Jordan Dykstra dunk that gave SDSU a 50-49 lead and capped by a Carlson jumper on the next possession that gave SDSU a 53-49 lead, and its first lead since the opening minutes.
IPFW regained the lead at 53-52 with 15:51 left in the game, and four more lead changes followed over the next three minutes before the 'Dons went up for good on a Pierre Bland layup with 13:31 to play.
Down by nine points at 79-70 with under a minute to play, SDSU cut the lead to four points on a pair of Chad White free throws with 29 seconds left, but the home team made their free throws down the stretch to secure the win.
Along with Carlson and his 24 points, the Jacks got 18 from Dykstra and 12 points each from both White and Cody Larson, who added a game-high eight rebounds.
Luis Jacobo tied for game-high honors and led four Mastodons in double figures with 24 points. Steve Forbes added16, with Mo Evans and Joe Reed finishing with 11 points each.
The Jacks look to start a new streak on Thursday, when they return home for the first time since Dec. 18, to host Western Illinois in Frost Arena at 7 p.m. The Fighting Leathernecks come to Brookings with a 7-9 record and a 1-0 mark in league play after a 79-72, overtime win over Omaha on Saturday night in Macomb, Ill.
NOTES: SDSU leads the all-time series with IPFW 11-9, with wins in eight of the last nine meetings … the Jackrabbits and Mastodons played in front of a crowd of 622 at the Hilliard Gates Sports Center on the IPFW campus … White moved from 30th on the all-time scoring list at SDSU to 27th with 1,106 career points, he needs eight points to move up to 25th all-time … White's two 3-pointers in the game gives him 199 for his career, moving him from fifth to fourth all-time, and leaves him four shy of passing Garrett Callahan for third all-time at SDSU ... Dykstra moved from 10th all-time in scoring at SDSU to ninth all-time with 1,432 points, 18 shy of passing Callahan for eighth all-time ... Carlson's career-high 24 points gives him at least 20 points for the fourth time this season, all in the last six games, and for the sixth time in his career … Carlson's previous career-high came against Marshall on Nov. 17, 2012, when scored 23 … Carlson also surpassed 900 points for his career, ending the game with 908, leaving him 92 shy of becoming the 45th member of the SDSU 1,000-Point Club … SDSU falls to 0-5 when outrebounded by its opponent.
Courtesy: South Dakota State University