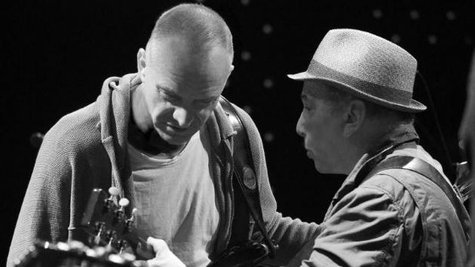 Two separate ticket packages offering music fans the chance to see Paul Simon and Sting perform together on their upcoming tour are being auctioned now to raise money for a pair of charities.
The first package includes four passes to the singer/songwriters' March 6 show at Madison Square Garden in New York City. The winning bidder and three guests also will get to meet the folk-rock legend and the ex- Police frontman in person prior to the gig. Money raised by this auction will be donated to the Children's Health Fund, a charity Simon co-founded that provides medical services to homeless and financially disadvantaged families throughout the U.S.
The second package offers two tickets to Simon and Sting's February 16 concert at the Honda Center in Anaheim, California. The lot also includes dinner for two at the Jack Daniel's Old No. 7 Club, a private restaurant located at the Honda Center. Funds raised by this auction will go toward modern-rock band Linkin Park 's Music for Relief charity, which helps people affected by the devastating typhoon that ripped through the Philippines this past November.
You can bid on both packages online now at CharityBuzz.com. Bidding on the first is open until January 29 at 2 p.m. ET, while the second is open until January 23 at 3:10 p.m. ET.
The Paul Simon & Sting: On Stage Together tour kicks off on February 8 in Houston and runs through a March 16 show in Orlando, Florida.

In other news, Simon has taken to his website to ask fans to donate money to a memorial fund in honor of his friend -- and major musical influence -- Phil Everly of The Everly Brothers . The fund will support the COPD Foundation, which seeks to find a cure for chronic obstructive pulmonary disease. Everly passed away on January 3 at the age of 74 after a battle with the disease.
Copyright 2014 ABC News Radio