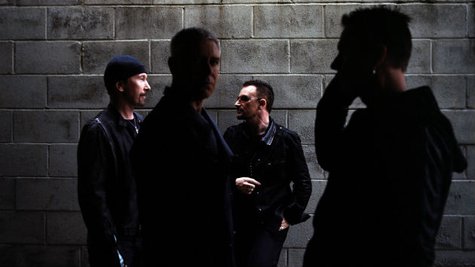 Going into this weekend's Golden Globe Awards, it's a heated competition in the category of Best Original Song from a Motion Picture, with U2 battling it out with Coldplay , Justin Timberlake and Taylor Swift for the trophy. And while all these acts are superstars, one is just a little bit more "superstarry" than the others...and that, apparently, is the key to winning the award.
"They want to see Bono up on that stage," says Tom O'Neil , editor of the awards-centric website GoldDerby.com , which runs predictions for all the major entertainment awards each year. He tells ABC News Radio that the Hollywood Foreign Press Association -- the small group of international journalists who vote for the Globe winners -- will give U2 the trophy for their song "Ordinary Love" because of their worldwide fame.
"They're big stars," explains O'Neil. "The Golden Globes like to have the biggest stars in the world on their stage. The reason for that, on one hand, is good ratings for the show. But also remember: These are foreign journalists, who have to sell their goods back to those newspapers in Stockholm and in Buenos Aires, where they get their living. So they want to see glamour reign."
As a reminder, U2's nominated song is from Mandela: Long Walk to Freedom . Coldplay received its nod for "Atlas" from The Hunger Games: Catching Fire . Timberlake is nominated for co-writing "Please Mr. Kennedy," from the Coen Brothers movie Inside Llewyn Davis . Swift and fun. guitarist Jack Antonoff are nominated for co-writing "Sweeter than Fiction," from the film One Chance . The fifth nominee is "Let It Go," from the animated movie Frozen .
Tune in to NBC on Sunday night at 8 p.m. ET/5 p.m. PT to see who goes home with the gold.
Copyright 2014 ABC News Radio