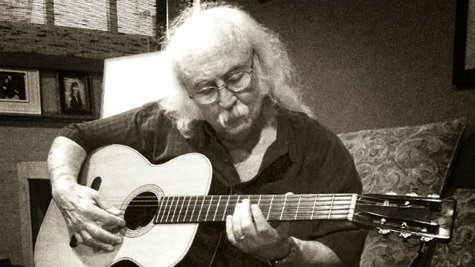 David Crosby has plenty of musical projects to keep him busy in 2014, with a new solo album titled CROZ due out January 28, an accompanying solo tour beginning the same day and a Crosby, Stills & Nash trek scheduled for March. However, there another project the acclaimed singer/songwriter says he'd jump at the chance to do -- a reunion of his old band The Byrds .
"I would do a Byrds tour or a Byrds record in a minute," he tells U.K. magazine Mojo . "I miss that band now."
Unfortunately, the chances of the surviving Byrds band mates getting together again seem slim, as Crosby reveals that lead singer and guitarist Roger McGuinn is less than enthusiastic about it.
"I've tried to convince Roger over and over to do it but he's not interested," David says. "Music isn't something you can legislate into being."
Remembering his early days in Los Angeles with McGuinn and late Byrds singer Gene Clark , he recalls how The Beatles helped inspire his own group. "We saw A Hard Day's Night and it blew our minds," he declares.
Crosby, who underwent a liver transplant in 1994, tells Mojo that he feels "terrific," especially for someone who has what he describes as "three fatal diseases" -- diabetes, hepatitis C and heart disease.
Fans coming out to his upcoming solo concerts can expect to hear a few Byrds gems and some songs from the new CROZ album, as well as a selection of CSN classics and tunes from his earlier solo efforts.
Copyright 2014 ABC News Radio