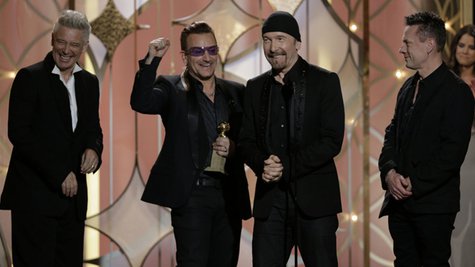 U2 beat off competition from pop stars like Taylor Swift and Justin Timberlake to take home the second Golden Globe trophy of their career Sunday night.
The band won for "Ordinary Love," the song they wrote for Mandela: Long Walk to Freedom . As Bono said onstage, "This was personal," given the band's long association with the late South African leader Nelson Mandela . "You know about the global statesman, you don't know about the man. That's why you should see this film," he added. Backstage, U2 bassist Adam Clayton gave thanks to Coldplay 's Chris Martin for being "an early adopter of the song" and helping them "get it into the shape it was in in the film."
Ironically, U2 beat Coldplay for the award Sunday night: the latter had been up for their song "Atlas," from the movie The Hunger Games: Catching Fire. It was U2's second win in this category; their last came in 2003 for "The Hands that Built America."
Backstage, U2 guitarist Edge said that the band essentially put their album on hold to create "Ordinary Love," and added, "We're getting back to it now and we're really excited about what we've got going." U2 is expected to release that new album at some point during the first half of this year.
Copyright 2014 ABC News Radio