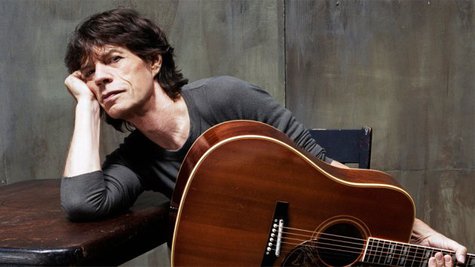 Mick Jagger will be hitting the road with The Rolling Stones again next month, but the rock legend also has plenty of other projects to keep him busy. A new cover story in The Hollywood Reporter takes a look at Jagger's increasing focus on producing films and television shows, among them the previously announced James Brown biopic Get on Up and a newly reported proposed TV miniseries and Broadway musical based on the Oscar-nominated documentary 20 Feet from Stardom .
It was Jagger who helped bring Get on Up to fruition. After Brown's death in 2006, the head of the funk legend's estate approached Mick with the idea of doing a documentary, but Jagger instead suggested a theatrical feature. According to The Hollywood Reporter , Jagger's involvement in the project helped secure the rights to Brown's music. The film, which will feature 42 star Chadwick Boseman in the lead role, is now set to premiere on August 1.
Jagger praises Boseman's performance in the flick, noting, "You gotta get the guy right. You've got to get him perfect. Chad's really worked very hard on [preparing]."
As for the 20 Feet from Stardom series and stage production, The Hollywood Reporter reveals exclusively that Jagger, his Jagged Films partner Victoria Pearman and director Morgan Neville are involved in discussions to turn the film into an hour-long scripted TV program and a musical. The movie tells the story of a number of backing singers, including Darlene Love and Rolling Stones collaborators Lisa Fischer and Merry Clayton , who have contributed vocals to many famous songs while getting relatively little recognition. The plan is to have some of the film's stars actually appear in the proposed musical.
Also on Jagger's plate is a yet-untitled HBO series that will look at the history of the music business over the course of several decades while focusing on a quick-witted A&R executive. Mick is working on the show with Martin Scorsese and the famed director's Boardwalk Empire collaborator Terence Winter . A pilot, which was penned by Breaking Bad writer George Mastras and will star Boardwalk Empire 's Bobby Cannavale , is expected to begin production in the next few months.
In addition, Jagger is producing a feature film about Elvis Presley titled Last Train to Memphis that's slated to start filming soon. If that's not enough, Mick is involved in three other movie projects that he not only is producing but also plans to act in. He'll have a supporting role in a film called Fresh Tears , a coming-of-age tale that also is set within the music industry; he'll produce and star in a movie titled Tabloid , in which he'll portray a media mogul; and he'll appear as a character named DeVere in a family drama called Tiny Problems of White People .
Copyright 2014 ABC News Radio