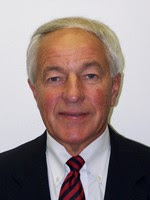 Burnsville, Minn. (KWSN)- Northern Sun Intercollegiate Conference (NSIC) Commissioner Lloyd "Butch" Raymond has announced his retirement effective August 1 after 50 years of service to collegiate athletics. Raymond, the fourth full-time commissioner in the history of the league, has served as NSIC Commissioner since the spring of 2004.
A national search for a replacement is currently underway."I have been blessed for the past 50 years to have worked in the athletic community. As a coach for 33 years, an athletic administrator for 7 and a commissioner for the past 10 years, I have been surrounded by talented staffs and peers that have made everyday fun for me to come to work. It has been an exciting ride, I am very thankful," said Raymond. When Raymond began his duties in 2004 the NSIC consisted of eight institutions. Over the past ten years the league has doubled in size to the 16 institution conference it is today. In that time, under the leadership of Raymond, the NSIC has won 13 team national championships and crowned 36 individual national champions.
Raymond also served on various national committees over the years, including the chair of the Conference Commissioners Association; Vice Chair of NCAA DII Management Council, National Chair for NCAA DII Basketball Committee and Regional Chair for football.
"With the help of my staff, a strong Board of Directors and a group of athletic administrators that have tremendous vision, the NSIC has developed into a leader for NCAA Division II. Our men and women student-athletes have supplied us with exciting competition within our league and nationally.They have also excelled in the classroom, winning numerous conference and NCAA Division II academic awards. The athletic administrators at our institutions and members of my staff have also assumed leadership roles on many national committees, adding to the high visibility of our conference," commented Raymond.
Raymond came to the NSIC from Southwest Minnesota State University, where he served as director of athletics and associate director of development from 1997 to 2004. While at SMSU, Raymond was responsible for all activities, budgeting, fundraising, marketing and promotions, compliance and day-to-day operations of ten varsity sports as well as the overall athletics department.During Raymond's time at SMSU, the Mustang athletics department enjoyed prosperity on and off the playing field. Mustang athletic teams won 11 NSIC Championships, with ten of the championships coming in his last four years there.
Seven SMSU athletic teams qualified for NCAA post-season play, including the 2001 men's basketball team which captured the North Central Region title and advanced to the NCAA Elite Eight. In the classroom, SMSU student-athletes recorded program-high grade point averages during Raymond's tenure.Prior to his stay at Southwest Minnesota State, Raymond was the men's basketball coach at St. Cloud State University. In addition to managing the operations of the men's basketball program, Raymond served as an associate professor in the school of health, physical education and recreation.
Raymond was the all-time winningest coach in St. Cloud State history (231-141) until surpassed by his former assistant and current St. Cloud State Head Coach Kevin Schlagel. Raymond led his team to the North Central Conference Championship in 1986, 1987 and 1988.Raymond also served as men's basketball coach, associate professor in the school of health, physical education and recreation and coordinator of intercollegiate athletics at Mankato State University.
He coached the basketball team from 1973 to 1984, earning one North Central Conference and one Northern Intercollegiate Conference title. From 1978-82, Raymond coordinated all efforts for the men's and women's athletics departments. Raymond also earned his master's degree from MSU.A graduate of Augsburg College, Raymond served as men's basketball coach and assistant professor at his Alma Mater from 1969 to1973.
He also held the position of boy's basketball coach and math teacher at Fairmont and Minneapolis Southwest high schools.Over the years, Raymond has been inducted into multi Halls of Fame, including Pipestone/Jasper High School; Augsburg College; Minnesota State University, Mankato; St. Cloud State University and Southwest Minnesota State University.
Courtesy: Northern Sun Intercollegiate Conference