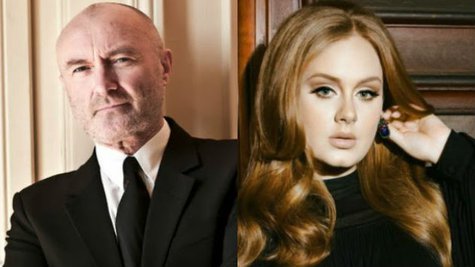 Phil Collins recently told a German newspaper that he'd started working on new material again after announcing his retirement from music a few years ago. However, fans of the former Genesis singer/drummer may be quite surprised with the Rock and Roll Hall of Famer's latest revelation: He says he's begun a collaboration with the hugely successful contemporary U.K. pop singer Adele , even though he didn't really know who she was.
Speaking to the Something Else! website , Collins reveals, "I'm just starting to work with Adele. She contacted me to write together. I wasn't actually too aware of [her and her music] -- I live in a cave, I think."
Phil, who will turn 63 on January 30, explains that Adele's talent and success helped motivate him to create some new music following his long layoff.
"She's achieved an incredible amount, and I really love her voice, I love some of that stuff that she's done," he tells the website. "So to me, it's always an eye-opener; educational."
Collins most recent studio effort was 2010's Going Back , a collection of classic Motown and soul covers, while his last album of original songs was 2002's Testify .
Copyright 2014 ABC News Radio