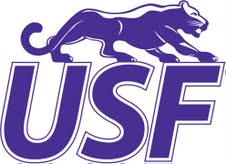 SIOUX FALLS, S.D. (KWSN) – The University of Sioux Falls had several reasons to be up for Friday night's game against crosstown rival Augustana College, but no one could have envisioned what happened at the Elmen Center.
The Cougars were quickly down 10-3 with less than 14 minutes to play and Augustana's dominant first-half effort beget a second half thrashing as they ran USF out of the gym by a score of 94-53.
USF (8-9, 5-8 NSIC) never led in the First Dakota National Bank Mayor's Cup contest. Ten of the Vikings' 41 first-half points came off turnovers as USF struggled to generate any offensive rhythm. They ultimately cashed in 16 Cougar turnovers for 17 points.
The final outcome was essentially determined just a few minutes after the opening tip. Augustana (12-7, 9-4 NSIC) imposed its will on both ends the floor, shooting 54.2% percent on the offensive end and holding Sioux Falls to just 32.1% percent on their shot attempts.
Whenever the Cougars would try and mount any kind of a sustained scoring effort, the Vikings answered with a couple of quick baskets and defensive stops. It was a dominating performance once again for Viking sophomore Casey Schilling, who scored a game high-20 points on 5-for-10 shooting, including 3—3 from deep.
Very little went right for Sioux Falls. Mahlon Jones scored a team-high 17 points. No other Cougars reached double-digits in scoring. Derek Brown had seven points in 18 minutes of action.
The Vikings also out-rebounded the Cougars by two, 35-33. The Viking bench accounted for 30 points, while the USF reserves finished with 23. The Cougars went 15-for-19 from the line, highlighted by a 7-for-7 performance from Jones.
USF travels to Wayne State tomorrow.
Courtesy: University of Sioux Falls