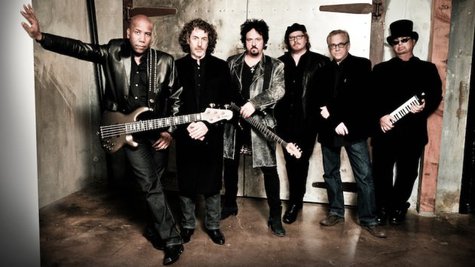 It's only January, but 2014 is already shaping up to be a very busy year for Toto .
After performing with Ringo Starr during Sunday night's Grammy Awards ceremony in Los Angeles, guitarist Steve Lukather will remain in a Fab Four state of mind on Monday, when he takes part in The Night That Changed America: A Grammy Salute to The Beatles , airing February 9 on CBS.
After that, Toto is scheduled to rock Japan in April, performing seven concerts in five cities. Then there's Toto 35th Anniversary: Live in Poland, a two-hour-plus performance from June 2013, which is expected to arrive sometime this spring or summer on CD, DVD and Blu-ray via Eagle Rock Entertainment .
A new Toto studio album, the band's first since 2006's Falling In Between , is on the horizon, too. "The repertoire is coming together, so naturally it is as though we never took a break from creating as Toto in the studio," says keyboardist David Paich .
Last but not least, Toto is plotting a co-headlining North American tour with former Doobie Brothers singer Michael McDonald that's expected to begin in August and continue into September.
Copyright 2014 ABC News Radio