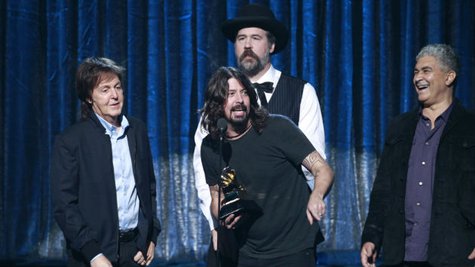 Paul McCartney took home a Best Rock Song trophy Sunday night at the 56th annual Grammy Awards for "Cut Me Some Slack," his collaboration with ex- Nirvana members Dave Grohl , Krist Novoselic and Pat Smear . Chatting with Rolling Stone after winning the award, the former Beatles star said "it was magic for me" working with influential grunge rockers.
"They really are great to play with," McCartney declared. "They were a great band with [late frontman] Kurt [ Cobain ]. That's what I experienced -- just playing with a really good band, which is a very special thing. I should know."
"Cut Me Some Slack," of course, was featured in Grohl's Sound City documentary, the star-studded film about the famed, now-defunct Sound City Studios recording facility in Los Angeles. McCartney, Grohl and company banged out the tune on the spot over the course of a few hours.
Grohl explained to Rolling Stone that his original plan was to record a cover of the Little Richard classic "Long Tall Sally," a song that used to be a part of The Beatles' repertoire, but Sir Paul had other ideas.
"He was the one that said, 'No, no, no, no…Let's write and record a new song in the three hours we have there,'" remembered Dave. "We did it, and we just got Best Rock Song!"
McCartney, meanwhile, admitted that he initially didn't realize he was taking part in a somewhat historic reunion when he hit Grohl's studio.
"I knew who Dave was because I'd met him, and he said, 'I have a couple of friends coming along,'" noted Paul. "And during the session I hear them talking: 'Wow, we haven't played since Nirvana.'"
As for whether McCartney thinks he'll work with the Nirvana guys again, he said, "You never know."
Copyright 2014 ABC News Radio