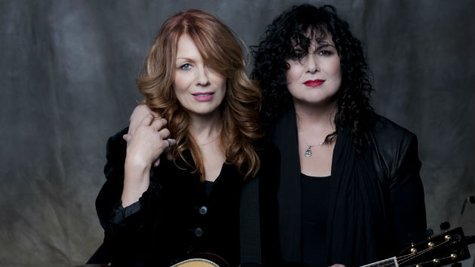 Heart 's Ann and Nancy Wilson are slated to take part in a fundraising event for Nashville's Country Music Hall of Fame that will take place in Los Angeles on March 4. The All for the Hall benefit, which will be held at Club Nokia at L.A. Live, will feature a variety of performers hitting the stage together for an old-fashioned "guitar pull."
Other artists who will perform at the event include country stars Emmylou Harris and Vince Gill and singer/songwriter Jason Mraz . The show will feature the musicians swapping tunes and sharing stories and recollections. Actress/singer Rita Wilson , Tom Hanks ' wife, will host the festivities.
Details about purchasing VIP tickets and tables can be found at CountryMusicHallofFame.org/AFTHLA . Tickets for balcony seats will go on sale on Friday at 10 a.m. PT at AXS.com, with prices ranging from $49.50 to $125.
Copyright 2014 ABC News Radio