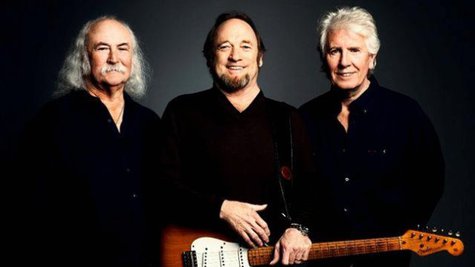 Crosby, Stills & Nash are ready to hit the road again for a major U.S. tour. The folk-rock trio's latest trek gets under way tonight in Bethlehem, Pennsylvania, and is scheduled to run all the way through an October 3-4 stand at the Greek Theatre in Los Angeles.
Graham Nash says fans obviously can expect the group to play plenty of the classic hits they've come to love, while admitting that "the best parts of the show" for him and his band mates are when they get to perform fresh material.
He tells ABC News Radio, "If we didn't have new stuff to do, it would be just rehashing all the old s**t and no one in the band is interested in doing that. So it's the new songs that are keeping us alive and keeping us passionate about what we're doing."
All three CSN members have quite a few new tunes from which to choose for the group's set, as Stephen Stills released an album in 2013 with his blues-rock supergroup The Rides , David Crosby put out a solo effort titled Croz earlier this year and Nash debuted a bunch of his own recent compositions during his 2013 solo trek. Meanwhile, Graham reports that he, Crosby and Stills "continue to write," so don't be surprised if some even newer numbers are played on this tour.
Less than a week after the CSN trek starts, a new Crosby, Stills, Nash & Young box set featuring performances from the quartet's 1974 reunion tour will be released. The collection, titled CSNY 1974 , includes quite a few rare and previously unreleased tunes. Asked whether CSN might play some of this material on the upcoming trek, Graham remains mum, although he does tell ABC News Radio that he's still hoping Neil Young will agree to take part in a new CSNY outing next year.
Meanwhile, Nash shared some exciting family-related news with ABC News Radio, revealing that his son Will's wife Shannon will likely be giving birth to identical twin boys on Thursday, a day before the Fourth of July.
Graham explains that he asked his son why he and his wife -- who likely will undergo a C-section -- didn't want to wait and have the babies delivered on the holiday. "He said, 'Well, you know, everyone's off. All the surgeons are off. All the baby people are off. They're all playing golf or celebrating the 4th with a hot dog.'"
As for where Graham will be on Thursday, he's scheduled to be playing a show with CSN in Vienna, Virginia, although the band will have Independence Day off.
You can check out Crosby, Stills & Nash's full tour schedule at CrosbyStillsNash.com .
Follow @ABCNewsRadio
Copyright 2014 ABC News Radio