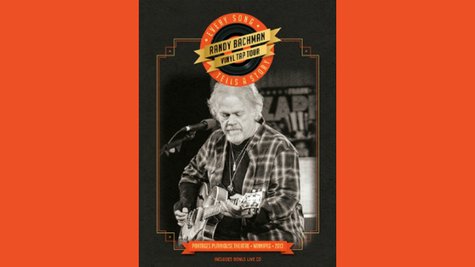 Fans of Bachman-Turner Overdrive and the Guess Who who think they knew everything about Randy Bachman ain't seen nothin' yet, as the author of the band's iconic hits reveals in his new release, Every Song Tells a Story .
Recorded in April 2013, at Pantages Playhouse Theatre in Winnipeg, the 14-track CD/DVD set features Bachman in a rare and intimate setting, weaving together his hits with storytelling, intricate detail and humor.
In recalling the opening lines of "Takin' Care of Business," Bachman said the inspiration was simple when he asked for directions.
"So I say, 'How do you get to Grand Central Station?'" he recalled. "He said, 'I take the 8:15 into the city.'"
"You could see my life as a series of accidents that I've learned to sit back and see where they go," said the Canadian musician in a promotional video.
Every Song Tells a Story will be released via the Independent Label Services Group on August 19.
The collection is available for pre-order on Amazon.com.
Bachman will hit the road for some solo dates and a trek with Peter Frampton and Buddy Guy this summer.

Here's the Every Song Tells a Story track list:
"Prairie Town"
"Shakin' All Over"
"These Eyes"
"Laughing"
"No Sugar Tonight"
"No Time"
"American Woman"
"Roll On Down the Highway"
"Let It Ride"
"You Ain't Seen Nothin' Yet"
"Takin' Care of Business"
"Hey You"
"Undun"
"Lookin' Out for #1"
Bachman & Turner Tour Dates:
7/26 -- Columbus, OH, Ohio Expo Center & State Fair
8/23 -- Albany, OR, Oregon Amphitheater
8/24 -- Palmer, AK, Alaska State Fair
8/30 -- Las Vegas, NV, Cannery Casino & Hotel
11/1 -- Pinellas Park, FL, England Brothers Park (Born to Ride Jam 2)
Randy Bachman Tour Dates w/ Peter Frampton and Buddy Guy plus special guests:
8/26 -- Saratoga, CA, The Mountain Winery
8/27 –- Los Angeles, CA, Hollywood Bowl
8/29 -- Visalia, CA, Oval Park
Follow @ABCNewsRadio
Copyright 2014 ABC News Radio