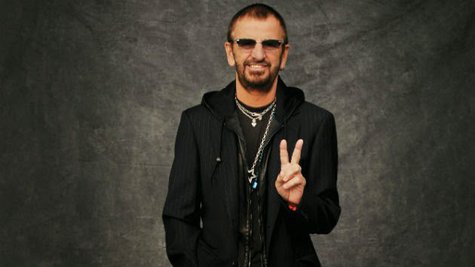 One of the advantages of a long life is you're around to enjoy everyone showing how much they love you. Ringo Starr , who turned 74 last Monday, gets to bask in the love tonight, during the Ringo Starr: A Lifetime of Peace and Love tribute concert, airing on AXS TV.
The concert actually took place last January at the El Rey Theatre in Los Angeles, and also served to raise money for and awareness of the David Lynch Foundation, which seeks to promote peace and heal lives through meditation. Performers including Ringo's brother-in-law, Joe Walsh , as well as Ben Harper , Ben Folds , and R&B queen Bettye LaVette , saluted the former Beatle by performing his music, as accompanying Ringo as he ended the evening with a three-song set, including leading an all-star sing-along of "With a Little Help from My Friends."
You'd think by this point, Ringo would be hard to impress, but he tells ABC News Radio the concert was a first for him. "This is the first time that all these different acts are doing my songs," he says. "Not Beatles songs. They're doing songs Ringo wrote. …I mean, first time that's ever happened to me. It's quite thrilling, really."
Ringo Starr: A Lifetime of Peace and Love premieres tonight at 8:00 p.m. ET/5:00 p.m. PT on AXS TV.
Follow @ABCNewsRadio
Copyright 2014 ABC News Radio