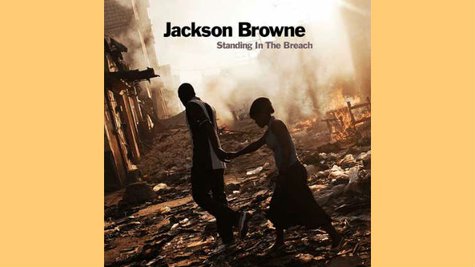 Jackson Browne has revealed official details about his upcoming studio album, which is titled Standing in the Breach and will be released in the U.S. October 7 . The record will feature 10 new original tunes that are described as "deeply personal and political, exploring love, hope, and defiance in the face of the advancing uncertainties of modern life."
Standing in the Breach is available now for pre-order at Amazon and iTunes.
In support of the album, Browne has announced a new series of fall U.S. and U.K. tour dates that will see him accompanied by a full electric band. The stateside portion of the trek currently includes 10 performances, and runs from a September 14 concert in Washington, D.C., through an October 18 show in Indianapolis. The U.K. visit is mapped out from a November 17 gig in Birmingham though a November 24 concert in London.
Jackson's group will consist of his longtime guitarist Val McCallum , drummer Mauricio Lewak , keyboardist Jeff Young , and bassist Bob Glaub , as well as renowned multi-instrumentalist Greg Leisz . All of these musicians also contributed to Standing in the Breach .
"This is my ideal band, with some of my favorite players…and whose combined gifts provide the musical foundation and emotional underpinnings of my new songs," says Browne in a statement. "I feel fortunate to have them out on the road for this tour."
Earlier this month, Browne launched a U.S. summer tour that's mapped out through an August 23 show in Baltimore. All of these dates are acoustic performances with the exception of a pair of co-headlining events with John Fogerty -- on August 4 in Holmdel, New Jersey, and August 5 in Wantagh, New York -- both of which will feature Jackson playing with a full band.
Here is the full track list for Standing in the Breach :
"The Birds of St. Marks"
"Yeah Yeah"
"The Long Way Around"
"Leaving Winslow"
"If I Could Be Anywhere"
"You Know the Night"
"Walls and Doors"
"Which Side"
"Standing in the Breach"
"Here"
And here are all of Browne's upcoming U.S. concerts. All are acoustic show unless otherwise noted:
7/16 -- Madison, WI, Overture Center for the Arts
7/18 -- Minneapolis, MN, State Theater
7/19 -- Cedar Rapids, IA, Paramount Theatre
7/21 -- Wichita, KS, Orpheum
+8/4 -- Holmdel, NJ, PNC Bank Arts Center
+8/5 -- Wantagh, NY, Nikon at Jones Beach
8/9 -- Easton, PA, State Theatre Center for the Arts
8/11 -- Lewistown, NY, Artpark
8/13 -- Syracuse, NY, The Landmark Theatre
8/14 -- Albany, NY, The Palace Theatre
8/16 -- Boston, MA, Boston Opera House
8/17 -- Portland, ME, Merrill Auditorium
8/19 -- Concord, NH, Capitol Center
8/20 -- Providence, RI, Providence PAC
8/22 -- Wallingford, CT, Toyota Presents the Oakdale Theatre
8/23 -- Baltimore, MD, Hippodrome Theatre
*9/14 -- Washington, D.C., Kennedy Center
*9/27 -- Santa Monica, CA, Newport Folk Fest Presents Way Over Yonder
*10/4 -- York, PA, Strand Capitol Performing Arts Center
*10/7 -- New York, NY, Beacon Theatre
*10/10 -- Philadelphia, PA, Academy of Music
*10/12 -- Pittsburgh, PA, Benedum Center
*10/14 -- Chicago, IL, Chicago Theatre
*10/15 -- Akron, OH, E.J. Thomas Performing Arts Hall
*10/17 -- Columbus, OH, Palace Theatre
*10/18 -- Indianapolis, IN, Murat Theatre

+ = full band show, co-headlining with John Fogerty
* = full band show
Follow @ABCNewsRadio
Copyright 2014 ABC News Radio