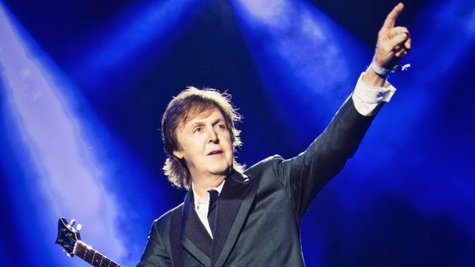 Paul McCartney has lined up a special intimate benefit concert deep in the heart of Texas this fall. The rock legend will perform at the Tobin Center for the Performing Arts in downtown San Antonio on October 1 in conjunction with the grand-opening festivities for the $203 million venue.
Sir Paul's show will take place in The Tobin Center's 1,750-seat H-E-B Performance Hall and will raise money for the complex, which is scheduled to open on September 4. The performing arts center also includes two other venues -- the 250-seat Carlos Alvarez Studio Theater and the 600-seat River Walk Plaza outdoor space.
The concert will be the first McCartney has played in San Antonio since 1993, and will be held a day before his recently rescheduled show in Lubbock, Texas.
"To have Paul McCartney, the single most iconic musician, singer and songwriter in the world, perform as part of our grand opening celebration is special in so many ways," says Tobin Center board chairman J. Bruce Bugg Jr. "This will be a 'once in a lifetime' opportunity for people attending this concert to see and hear this incredible musician in the intimacy of The Tobin Center with its world-class acoustics."
McCartney's next concert is scheduled for this Wednesday in Kansas City, Missouri. Check out the former Beatles star's full itinerary at PaulMcCartney.com .
Follow @ABCNewsRadio
Copyright 2014 ABC News Radio