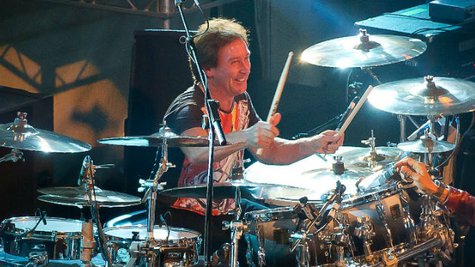 Founding Small Faces and Faces drummer Kenney Jones recently revealed that he's been battling prostate cancer, and now the 65-year-old Rock and Roll Hall of Famer is speaking out about his experience with the disease. Jones, who was diagnosed last September, admitted to the Get Surrey website that he'd unwisely ignored symptoms he'd been having for about 17 years.
"I am kicking myself in the foot now that if I had caught it earlier I could have had noninvasive treatment," he explained. "It is unfortunate that I did not do that and I think I was playing hard to get."
Doctors finally discovered that Jones had cancer after he underwent a routine blood test, called a PSA, or protein-specific antigen, test. Since then, he's been undergoing a 10-month series of radiation treatment and is hoping he can make a complete recovery.
Kenney, who also played with The Who during the late 1970s and 1980s, now is encouraging other men to be aware of the dangers of prostate cancer, and get checked out.
"The awareness side is so important and I would urge men to go have this PSA test -- no matter what age you are," he maintained. "It has been three months now since I started my treatment and there are signs that it is improving."
As previously reported, Jones has helped organize a benefit event to raise money for the Prostate Cancer UK organization. The Rock 'n' Horsepower benefit, which takes place June 14 at the Hurtwood Park Polo Club in Surrey, U.K., will include a star-studded concert at which Kenney is expected to reunite with his former Who band mates Pete Townshend and Roger Daltrey . The show's lineup also includes Jeff Beck , Procol Harum , Simply Red singer Mick Hucknall , Genesis / Mike & the Mechanics member Mike Rutherford , The Moody Blues ' John Lodge , ex- Foreigner bassist Rick Wills and John Parr .
Follow @ABCNewsRadio Copyright 2014 ABC News Radio