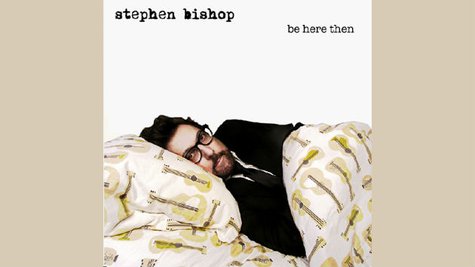 Stephen Bishop has always been known for his ability to create a catchy, well-crafted pop song, and his talent seems undiminished on his latest studio album, Be Here Then . The recently released collection features 10 engaging tunes, all of which are bursting with memorable melodies while offering a mix of folk, classic pop and modern-rock sounds.
Bishop recorded Be Here Then with a variety of respected session musicians, including Toto singer/keyboardist David Paich , Paul McCartney touring guitarist Brian Ray , longtime Jackson Browne guitarist Mark Goldenberg , bassist Leland Sklar and percussionist Lenny Castro .
Speaking recently with ABC News Radio about the album, his first new studio effort since 2008's Romance in Rio , Bishop told a little tongue-in-cheek tale about how he came up with the title. Referring to a story that John Lennon used to tell about how The Beatles got their name, he noted that the rock legend Lennon would say, "'Well, a man with a flaming pie came to me and said, 'You're The Beatles'…So, it's odd, but that same man came over my house with a flaming pie and said, 'Call the album Be Here Then .'"
The album's first single is "Pretty Baby," a song about a young runaway on which Bishop collaborated with Tia Sillers , who co-wrote Lee Ann Womack 's chart-topping 2000 country hit "I Hope You Dance." Bishop explained that, musically, he thinks the songs is "a little folky," comparing it to such modern acoustic acts as Mumford and Sons and The Lumineers .
Asked to name some of his other favorite songs from the new album, Bishop said he likes "Sparkle U Shine," a tune he wrote with Goldenberg, and "Loveless."
One other song from Be Here Then that Stephen singled out is the album's closing track, "Love Is You," which he wrote about his wife. Bishop pointed out that his significant other has now become very possessive about the tune. "Now it's like her song," he explained to ABC News Radio, adding that every time he does a show she says, "You better play my song."
Meanwhile, Bishop announced on his official website that he plans to release a new live album as a digital download "in the next few months." The record will feature him performing with a five-piece band, and will include a version of "Pretty Baby," as well as renditions of his classic hit "On and On" and the Tootsie theme song "It Might Be You."
Follow @ABCNewsRadio
Copyright 2014 ABC News Radio