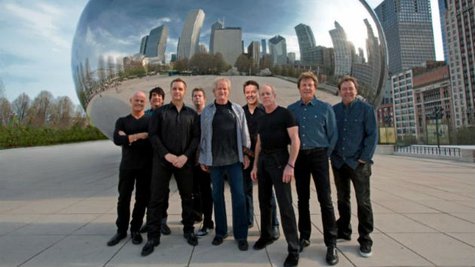 As the July 8 release date approaches for Chicago 's latest studio album, Now: Chicago XXXVI , Billboard.com is giving fans a new preview of the record by exclusively premiering the official video for the title track, "Now."
The clip features a variety of footage from hand-held cameras capturing the veteran band lip-synching the song on a concert stage. The tune is infused with all of the elements that made Chicago popular during its 1970s and '80s heyday -- catchy and upbeat vocal melodies accompanied by soaring and tasteful brass flourishes. Earth, Wind & Fire bassist Verdine White is a featured guest musician on the track.
If you pre-order Chicago XXXVI via iTunes, you'll immediately receive a free download of "Now" and another track from the album, "Love Lives On."
Founding Chicago singer/keyboardist Robert Lamm tells Billboard that the band had a good reason for including the word "Now" in the title of the album.
"I think that there are many people who, whether they like Chicago or don't like Chicago, assume that what Chicago does is all what you hear on classic rock radio, or that Chicago is some dinosaur-like presence on the tour circuit," he explains. "And we just wanted to kind of change that perception if we could by suggesting 'Now.'"
As previously reported, Chicago recorded the new album on "the Rig," a customized mobile recording system that allowed the band members to work on tracks in remote locations outside of a traditional studio.
Chicago kicks off a summer European tour on June 26 in Paris. After wrapping up the trek on July 18 in Norway, the band returns to the U.S. for a joint outing with REO Speedwagon that gets under way on July 31 in Concord, California. Visit ChicagoTheBand.com to check out the group's full itinerary.
Follow @ABCNewsRadio Copyright 2014 ABC News Radio