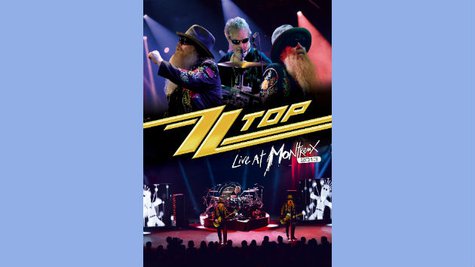 ZZ Top will be the focus of a new installment of the Live at Montreux concert video series that will hit stores on July 22. The release, Live at Montreux 2013 , will offer highlights from a performance the famed Texas blues-rock trio gave last July at Switzerland's annual Montreux Jazz Festival.
The video, which will be available on DVD and Blu-ray, features the band playing 17 songs, including such well-known tunes as "Gimme All Your Lovin'," "Sharp Dressed Man," "Legs," "La Grange" and "Tush." Also included in ZZ Top's Montreux set were three tunes from the group's latest album, 2012's La Futura -- "I Gotsta Get Paid," "Flyin' High" and "Chartreuse" -- as well as a cover of the Jimi Hendrix Experience classic "Foxey Lady."
In addition, the show contained a segment paying tribute to the festival's founder, Claude Nobs , that featured Hammond organ player Mike Flanigin and guitarist Van Wilks sitting in with the ZZ guys.
ZZ Top currently is on tour in Europe and will return to North America later this month to kick off a series of summer and fall dates. The band's itinerary includes a bunch of joint shows with Jeff Beck . Check out the group's full confirmed tour scheduled at ZZTop.com .
Here is the track list for ZZ Top's Live at Montreux 2013 video:
"Got Me Under Pressure"
"Waitin' for the Bus"
"Jesus Just Left Chicago"
"Gimme All Your Lovin'"
"Pincushion"
"I Gotsta Get Paid"
"Flyin' High"
"Kiko"
"I Loved the Woman"
"Foxey Lady"
"My Head's in Mississippi"
"Chartreuse"
"Sharp Dressed Man"
"Legs"
"Tube Snake Boogie"
"La Grange"
"Tush"
Follow @ABCNewsRadio
Copyright 2014 ABC News Radio