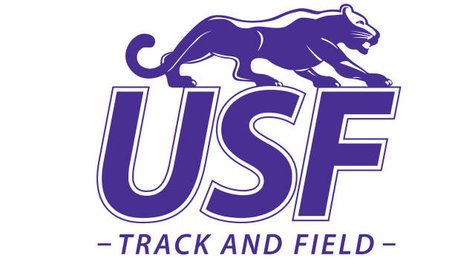 SIOUX FALLS, SD (KWSN) – The University of Sioux Falls Director of Cross Country and Track & Field Reid Ehrisman and his staff have announced the addition of 31 student-athletes to the 2014-15 cross country and track & field rosters.
The Cougars' 2014 recruiting class currently consists of twelve distance runners, eight sprinters/hurdlers, seven jumpers, two multi-event athletes, one pole vaulter and one thrower. All 31 recruits are high school seniors who will join the cross country and track & field teams as freshmen this fall.
Coach Ehrisman and staff have received national letters of intent from student-athletes of Colorado, Kansas, Minnesota, Nebraska, North Dakota, South Dakota and Texas. The 2014 class is highlighted by twelve athletes from South Dakota, including five signees from the Sioux Falls area.
"Our coaching staff has worked hard to bring in a class that is a good fit for the University and for our program," said Ehrisman. "It is going to be exciting to see what this group can accomplish in the years to come."
USF wrapped up their second season as a full-fledged member of the NCAA DII and the NSIC this past year, coming away with twenty NSIC All-Conference performances and five NCAA All-Americans.
"It's been great to see this recruiting class come together and to see how God has brought each of these student-athletes to the University of Sioux Falls," said Recruiting Coordinator and head cross country coach Grant Watley. "We are very excited for these athletes and what they will bring to our program."
The Cougars also enjoyed a successful fall season, as the USF men's cross country team finished ranked No. 18 in Division II, which included All-American performances by Billy Brockmueller and Bobby Brockmueller.
Introducing the 2014 Recruiting Class
Athlete Event Hometown (High School)
Morgan Anderson Sprints Blair, Nebraska (Blair HS)
Bailey Blood Jumps Overland Park, Kansas (Blue Valley Southwest HS)
Jada Carr Jumps Tyler, Minnesota (Russell Tyler-Ruhton HS)
Amanda Crawford Sprints Beaver Creek, Minnesota (Hills-Beaver Creek HS)
Jackie Dethlefsen Multi Events Stickney, South Dakota (Stickney HS)
Savannah Dolezal Sprints Estelline, South Dakota (Estelline HS)
Lucy Giles Multi Events Minneapolis, Kansas (Minneapolis HS)
Cathryn Hanzlik Dis./CC Niobrara, Nebraska (Niobrara HS)
Kiana Hein Dis./CC Sioux Falls, South Dakota (Roosevelt HS)
Jessica Justin Sprints/Jumps Isanti, Minnesota (Saint Francis HS)
Kara Koth Jumps Sioux Falls, South Dakota (Christian HS)
Destiny Montgomery Sprints Amarillo, Texas (Randall HS)
Maggie Rauh Jumps St. Peter, Minnesota (Minnesota Valley Lutheran HS)
Tenley Schwartz Dis./CC Wells, Minnesota (United South Central HS)
Sierra Stotz Sprints Tolstoy, South Dakota (Bowdle HS)
Logan Strasburg Jumps Volga, South Dakota (Sioux Valley HS)
Anna Tofteland Dis./CC Luverne, Minnesota (Luverne HS)
Kimberly Peterson Pole Vault Elizabeth, Colorado (Elizabeth HS)
Faith Voehl Jumps Eden Prairie, Minnesota (Eden Prairie HS)
Kendall Ward Sprints/Hurdles Hollandale, Minnesota (Alden Conger HS)
Jacob Benson Dis./CC Fairplay, Colorado (South Park HS)
Cody Bollweg Dis./CC Sioux Falls, South Dakota (Harrisburg HS)
Connor Bollweg Dis./CC Sioux Falls, South Dakota (Harrisburg HS)
Trey Furgeson Sprints Tea, South Dakota (Lennox HS)
Aaron Greenberg Sprints/Hurdles Elkhorn, Nebraska (Elkhorn HS)
Jase Kraft Dis./CC Wessington Springs, South Dakota (Wessington Springs HS)
Nick Lawson Dis./CC Plankinton, South Dakota (Plankinton HS)
Wyatt Johansen Dis./CC Canby, Minnesota (Canby HS)
Lucas Nadeau Dis./CC Dunsieth, North Dakota (Dunsieth HS)
Israel Parsons Dis./CC Custer, South Dakota (Custer HS)
Derrick Sheppard Throws Fremont, Nebraska (Fremont HS)
Courtesy: USF Sports Information