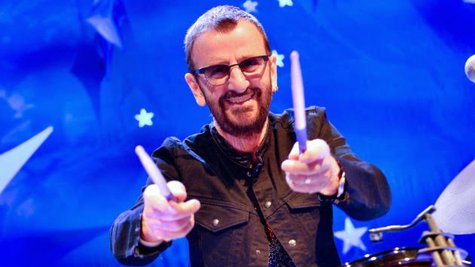 Ringo Starr makes no bones about it: He loves the latest incarnation of his All Starr Band . The legendary drummer tells ABC News Radio that this group of musicians is the first he's played with since The Beatles that feels "like a real band."
Thanks to Starr's fondness for the current All Starr Band, which features Todd Rundgren , Toto guitarist Steve Lukather , ex- Santana / Journey singer/keyboardist Gregg Rolie and Mr. Mister frontman Richard Page , the lineup has remained nearly unchanged for more than two years.
As for what makes the group special, Starr says, "I think we all support each other, you know? We know what the game is…There's no prima donnas." He then adds, with a laugh, "And they all understand that they're the best…and I'm the greatest. That's an inside band joke."
The All Starr Band is a couple weeks into a 30-date North American tour that Ringo says is "going great." The trek winds down with a July 19 show at the Greek Theatre in Los Angeles, but Ringo and the group also have announced another series of dates that kicks off October 2 in Catoosa, Oklahoma, and runs through an October 23 concert in Clearwater, Florida. In between the tour legs, Starr is planning to finish work on his next studio album, which he originally had hoped to complete by this past April.
Ringo says the delay was due, in part, to "the February Beatle madness," referring to the various celebrations marking the 50th anniversary of the band's first trip to the U.S.
"I found myself sort of racing [to finish the record], and I thought, 'No, stop…I'll do it later,'" he explains. "So now, it's gonna come out next year. So I'll finish it by end of September it'll all be over."
As for how far along he is with the album, Starr says, "I've got nine songs, and I've done the vocals on six, I've put the brass on three, we've overdubbed on a couple of them, and I've got three finished songs but I have to do the vocals [on those]." Ringo adds, "I really need one more [song]. It's like the myth you need 10 tracks, you know."
Regarding the sound of the record, the follow-up to 2012's aptly titled Ringo 2012 , Starr says, "It's similar to all the others but different, completely different, because I write with [various] people." Among his songwriting collaborators on the new album are veteran pop hitmaker Glen Ballard , Richard Marx and Lukather, who also contributes some guitar. Peter Frampton , meanwhile, also has lent his guitar skills to the project.
In addition to making new music and touring with the All Starr Band, Ringo has become quite a prolific artist. He tells ABC News Radio that he began creating pieces while he was on tour about a decade ago as a way to keep busy during his downtime. His earlier work was mainly done on computer, while his more recent paintings are stencils.
"I feel I can go any way I want with my art," he notes. "It's just whatever takes me at the time."
Collections of Starr's artwork are being exhibited at select locations during the current tour. He attended openings this past Thursday at the Soho Contemporary Art gallery in New York City and Saturday at Caesars casino hotel in Atlantic City, New Jersey, and also will be on hand for a private reception at the Hard Rock Café in Chicago this Thursday.
The next show for the All Starr Band, meanwhile, takes place Tuesday in Lewiston, New York.
Follow @ABCNewsRadio
Copyright 2014 ABC News Radio