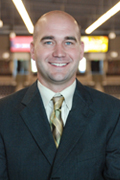 Chicago, IL (KWSN) – The United States Hockey League today announced that Jon Kram, President of the Fargo Force, has been named the 2013-14 Dave Tyler USHL Executive of the Year as determined by a vote of senior management from USHL Member Clubs.
In his fourth season in the USHL, Kram led the Force to continued growth in business operations and community involvement, resulting in a 23% increase of corporate sponsor and partnerships from the previous season. Despite finishing last in the League standings, the Force ranked third overall in total attendance as they averaged more than 3,500 fans per game for the fourth consecutive season. In their final home game, they welcomed a season high 4,487 fans for the 2-1 shootout victory over the Des Moines Buccaneers.
Kram and his staff continued the focus to provide a high value of entertainment for each Force game. New and fresh promotions contributed to high attendance numbers and gave the organization one of the best game night atmospheres in the USHL. The team's season ticket video for the 2013-14 season generated over 74,000 views on YouTube and further garnered attention for its creativity from several national media outlets, including Yahoo Sports, NBC Sports, MSN, NESN, and Sports Illustrated. The Force also made significant increases in their digital outreach and further connected with their fans by incorporating players and coaches into many of their promotional opportunities.
Community involvement was a priority for Kram and the Force. Players and staff spent over 600 hours out in the Fargo community during the 2013-14 season, contributing to multiple initiatives and projects. The team's reading program has doubled in size from the previous year as now over 2,000 elementary students participated in the educational program. The Force donated over $55,000 in funds and goods for multiple non-profit organizations in Fargo, including the Make-A-Wish Foundation, Wounded Warriors Project, Bike 2 Believe, Cully's Kids, Sanford's Cancer Survivorship Program "embrace", and 4 Luv of Dogs.
Kram also played a very active role at the League level, serving on the USHL Executive Committee in addition to working on multiple projects to help benefit the entire League.
It is the first time a member of the Fargo Force has been recognized as Dave Tyler USHL Executive of the Year since the award's inception in 2007. The award is named in honor of Dave Tyler, recognizing his leadership and dedication to the USHL and junior hockey in the United States. He served as President of the USHL from 1982-94 and his tenure with USA Hockey ran from 1975 to 2007.
Courtesy: United States Hockey League