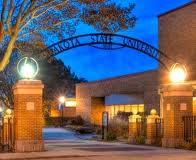 BROOKINGS, SD (KELO-AM) South Dakota State University will offer a fully online graduate certificate in animal science starting for the fall 2014 semester.
The 15-credit animal science graduate certificate program is designed to provide students with courses in the major disciplinary areas of animal science. The goal of the program is to provide foundation courses across many facets of animal science, serving as a basis for further study in one of the disciplines or in a particular animal species.
"The graduate certificate allows individuals to further their education in a relatively short amount of time while continuing to work full time," said Joe Cassady, department head of the animal science program.
The program is intended for individuals holding a bachelor's degree in animal science or closely related field with a desire to continue their education in the animal sciences. Individuals working in the animal science industries, animal producers and students enrolled in degree programs or preparing themselves for further education would benefit.
The animal science graduate certificate is offered through AG*IDEA, a national consortium of universities offering undergraduate and graduate programs in agricultural disciplines. The collaborative, multi-institutional program expands and diversifies the educational opportunities universities can offer.
"The consortium allows students to really get the best of the best when it comes to faculty," said Katie Grayson, SDSU Great Plains IDEA coordinator. "Great Plains IDEA and AG*IDEA give students the best instructors in their given field and allow them to take courses taught by true experts, regardless of their institution."
The Great Plains Interactive Distance Education Alliance (GPIDEA) is a partnership of 20 public university members providing access to the best educational opportunities by collaboratively developing and delivering high-quality, online academic programs. Through GPIDEA, SDSU offers fully online graduate and undergraduate coursework and program options in high demand professional fields, like the animal science graduate certificate.
"Having the certificate online lets students continue with their careers and gives students who are place bound the means to further their education," Cassady said.
SDSU is among the top 3.3 percent of U.S. higher education institutions serving more than 3,000 online students. This top percentage group dominates 50 percent of total online market share. For more information, visit www.sdstate.edu/online and followwww.facebook.com/SDSUContinuingEd. One can also contact the Office of Continuing & Distance Education at 605-688-4154 or emaildistance@sdstate.edu.
About the Office of Continuing & Distance EducationSDSU Continuing & Distance Education is the hub for online degree and certificate programs, University Centers collaboration, non-credit offerings and professional development seminars. All services and activities are intended to expand the reach of the University to a diverse community of distance learners so as to build human capital and foster knowledge-based economic development.