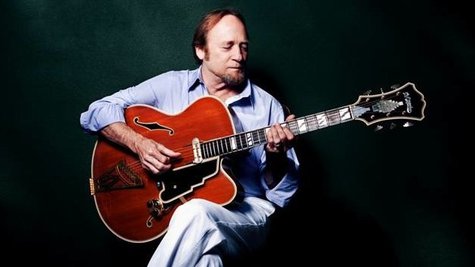 To date, every member of Crosby, Stills, Nash and Young has published a memoir except for one: Stephen Stills . Now the singer/guitarist tells Rolling Stone that he's about to join the club.
"I'm writing one right now," the 69-year-old Rock and Roll Hall of Famer reveals. "And it is a b*tch. It's the hardest f**king thing in the world! I mean, there's writing and there's typing."
Stills also reports that he's planning to pen his book without any outside help. "I got an 800 verbal [score on my SAT]," he declares. "I'm writing it myself. Why would I use a ghostwriter? Do you want a 300-page People interview?"
Stephen admits that it's been challenging for him to accurately remember details of his early life -- a time when, as a military brat, he moved frequently.
"I have to get it all straight," he notes. "Also, I went to five different high schools! I have no idea why. My father was up to something. So I'm going to stick to the funny stuff, but getting it all sorted out is just drudgery. Anyone that writes for a living knows what I'm going through."
Stills also says he plans to cover his time in the Buffalo Springfield , pointing out that his recollections of the short-lived band likely won't take up much of the book.
"It was so quick that picking out the best stories will only take a chapter or two," he explains. "It can be efficient. Back then, everybody was like Irish Wolfhounds and now we're like Basset Hounds. You slow down when you get older."
Stephen just finished up a series of solo concerts, and he'll hit the road next week with Crosby, Stills and Nash for an expansive U.S. tour that gets under way July 2 in Bethlehem, Pennsylvania, and is mapped out through an October 3-4 stand in Los Angeles. Meanwhile, as previously reported, a box set documenting Crosby, Stills, Nash and Young's 1974 reunion tour, aptly titled CSNY 1974 , will be released on July 8.
Follow @ABCNewsRadio
Copyright 2014 ABC News Radio