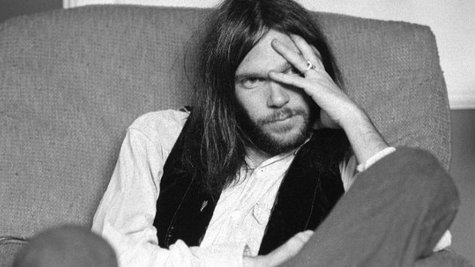 Four Neil Young studio albums -- 1973's Time Fades Away , 1974's On the Beach and 1975's Tonight's the Night and Zuma -- will be reissued on 180-gram vinyl together in a limited-edition box set in conjunction with the next installment of the Record Store Day campaign. The event, scheduled for April 19, will see the release of a variety of limited-edition albums, new singles and rare and previously unavailable materials -- all on vinyl -- to support independent record stores.
The four-LP Young collection, titled Official Release Series Discs 5-8 Vinyl Box Set , will mark the first time that the aforementioned albums will be available on 180-gram vinyl. Each album has been remastered from the original analog recordings, and features artwork that's been reproduced by Gary Burden , who's been Neil's art director for decades. Only 3,500 copies of the box set will be produced. Worth noting, Time Fades Away has long been out of print and is the only official Young studio effort that's never been released on CD.
Special T-shirts featuring the album covers of Time Fades Away , On the Beach , Tonight's the Night and Zuma also will be sold at independent music stores on Record Store Day. In addition, an Eric Clapton T-shirt commemorating a canceled show in August 2006 that the guitar legend had been scheduled to play in Moscow's Red Square also will be available in connection with the Record Store Day promotion.
Copyright 2014 ABC News Radio