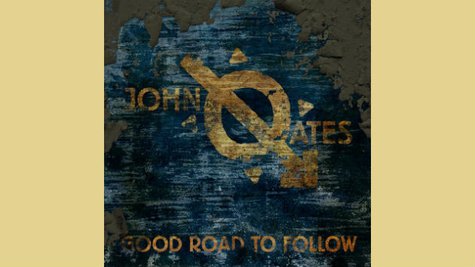 Over the last year, Hall & Oates singer John Oates has been releasing a series of seven digital singles on which he explored a number of different musical genres with help from a variety of collaborators. Now, the soon-to-be-Rock and Roll Hall of Fame inductee will release a three-EP, 15-song set titled Good Road to Follow on March 18 that gathers together those tunes along with additional tracks.
The EPs in the collection are titled, respectively, Route 1 , Route 2 and Route 3 , with each featuring five songs and focusing on a separate musical style. Among the artists John worked with on the project are OneRepublic frontman and prolific pop songwriter Ryan Tedder , country star Vince Gill , pop band Hot Chelle Rae and Americana veterans Jerry Douglas and Jim Lauderdale .
Oates teamed up with Tedder to write and record Good Road to Follow 's lead single, "Stone Cold Love."
"This project has been a labor of love," Oates says in a statement. "Almost every song was recorded with a different producer and a different co-writer, so I got to step into the worlds of so many creative and inspiring people."
He adds, "Each song became an intense and focused creative experience...it was a pure collaboration from beginning to end." A series of videos documenting Oates' work on the project has been posted on the singer's official YouTube channel .
Oates and his longtime musical partner Daryl Hall will be welcomed into the Rock and Roll Hall of Fame on April 10 at the Barclays Center in Brooklyn, New York. In addition, the duo has a bunch of upcoming U.S. tour dates lined up this year, while John has a few solo shows scheduled as well. Visit JohnOates.com/Date to check out his full itinerary.
Here is the complete track list for Good Road to Follow , according to Amazon.com:
Disc 1
"Stone Cold Love"
"The Head that Wears the Crown" (featuring Jerry Douglas & Wendy Moten)
"Pushing a Rock Uphill"
"Believe in Me" (featuring Bekka Bramlett)
"High Maintenance" (featuring Hot Chelle Rae)
Disc 2
"Close"
"Stand Strong"
"Lose It in Louisiana"
"Save Me
"Six Men"
Disc 3
"Don't Cross Me Wrong" (featuring Vince Gill)
"Bad Bad Love
"Edge of the World"
"Bad Luck and Trouble"
"Different Kind of Groove Sometime"
Copyright 2014 ABC News Radio