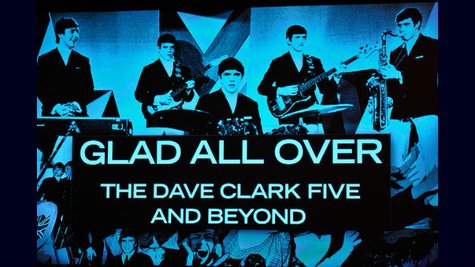 Along with The Beatles and The Rolling Stones , The Dave Clark Five were one of the most successful bands that emerged during the 1964 pop-music revolution known as the British Invasion. Now, a star-studded special focusing on the cultural impact that music had on the era is set to air next month as the latest episode of the PBS series Great Performances .
The Dave Clark Five and Beyond -- Glad All Over will feature archival performances by the U.K. quintet from The Ed Sullivan Show and other TV programs, as well as rare concert footage of the band. In addition, the two-hour special will include new interviews with Paul McCartney , Elton John , Stevie Wonder , Bruce Springsteen , Dionne Warwick , KISS ' Gene Simmons , and Ozzy Osbourne , as well as such other celebrities as Tom Hanks , Whoopi Goldberg , Ian McKellen , and British fashion icon Twiggy , all sharing their recollections of the 1960s and the music of the period.
The program also will feature additional performances by The Beatles, The Rolling Stones, Wonder, The Who , The Supremes , Otis Redding , Marvin Gaye , Martha Reeves and the Vandellas , Dusty Springfield , and Queen 's Freddie Mercury , plus previously unreleased footage from Dave Clark 's own archives.
In May 1964, The Dave Clark Five became the first English band to mount a full-fledged tour of the U.S. From February '64 to May '66, the group scored more than a dozen top-20 hits on the Billboard Hot 100, including "Glad All Over," "Bits and Pieces," and the chart-topping "Over and Over." Hanks inducted the band into the Rock and Roll Hall of Fame in 2008.
The Dave Clark Five and Beyond -- Glad All Over is scheduled to premiere on PBS on April 8 at 8 p.m. ET and also will air April 11 at 10 p.m. ET; check local listings for exact dates and air times. The special also will be available from PBS Home Video on DVD and Blu-ray.
Copyright 2014 ABC News Radio