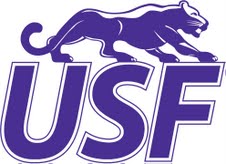 Stephanie Pendrys
SIOUX FALLS, S.D. (March 6, 2014) – The University of Sioux Falls has announced the names of four finalists for the position of director of intercollegiate athletics.
Throughout the week of March 10-14, each of the finalists will visit Sioux Falls to tour the USF campus and community and meet with members of the search committee, Presidential Cabinet, athletic coaches, students and other stakeholders.
Brief bios of the candidates are as follows:
Don Brubacher
Don Brubacher has served as director of athletics for Hillsdale College (Mich.) since September 2008. Previously, Brubacher was the director of athletics at Tabor College (Kan.) from 1999 through 2008. A Tabor alumnus (1975), Brubacher began his collegiate athletics career at Tabor College as an assistant athletic director in 1990 before being promoted two years later to associate athletic director. Brubacher holds a bachelor's degree from Tabor College and a master's of science degree from Emporia State University.
Jason Fairfield
Jason Fairfield serves as the Assistant Director for Development at Illinois State. Prior to Illinois State, Fairfield spent three years as the Director of Corporate Sales at Bradley University. A 1997 graduate of Southern Illinois with a bachelor's degree in education, Fairfield was a wide receiver for the Salukis during his playing days and later earned his master's degree from SIU in 2009. He started his career in athletics at Millikin University in Decatur, Ill., where he was an assistant football coach and assistant academic coordinator from 1999-2002.
Josh Snyder
Josh Snyder has served as the Senior Associate Athletic Director for Compliance and Development at the University of Missouri-Kansas City since May 31, 2011. He came to UMKC from Boise State University, where he served as the Executive Director for NCAA Compliance after spending seven years at Iowa State in a variety of professional capacities. Snyder got his start in 2001 as an assistant athletic director at the University of South Dakota. Snyder received a bachelor's of science in exercise and sports sciences from Iowa State University in 1995 and earned his Juris Doctor degree from Creighton University School of Law in 2001.
Dr. Tim Van Alstine
Van Alstine served as director of athletics for Division I Western Illinois University from 2001 through May 2013. Prior to his lengthy stint at WIU, Dr. Van Alstine was an associate director and then senior associate director of athletics with Ohio University between 1995-2001. He also spent five years (1990-95) as the director of athletic ticket operations for the University of Wisconsin and was the Director of Athletics Services at the University of Maine from 1989-90. Dr. Van Alstine earned a bachelor's degree from St. Norbert College (1982) and received his master's degree from Fordham (1984) and his doctorate from the University of Illinois (1992).