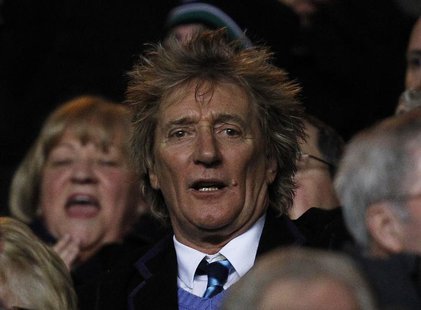 For years, Faces fans have hoped that all of the band's surviving members would agree to hit the stage together, and it now appears that plans for a reunion event or tour finally are in the works for 2015.
"We're expecting big news any day," Faces keyboardist Ian McLagan tells ABC News Radio, before hedging just a little. "I mean, it's a plan. I hope it all comes together. It sounds like it will this time."
McLagan says that in addition to he and his Faces band mates -- singer Rod Stewart , guitarist Ronnie Wood and drummer Kenney Jones -- likely getting together next year, he and Jones are plotting a special event celebrating their pre-Faces group The Small Faces ' 50th anniversary.
"Small Faces and the Faces will do something in 2015," he declares. "It's looking very healthy."
McLagan explains that while Faces reunion will probably be a full-fledged tour, the Small Faces celebration likely will be a one-off London tribute concert featuring a variety of special guests filling in for the band's two late members -- frontman Steve Marriott and bassist Ronnie Lane .
"We got lots of friends," Ian points out. "We need singers and bass players and guitarists, and we know a lot of them. So, we'll put something together…We'll probably do…just one decent show and I think that would be really, really fine."
The surviving Faces were supposed to have given a reunion performance at the 2012 Rock and Roll Hall of Fame induction ceremony, but Stewart was unable to attend the event because of illness. McLagan, Wood and Jones wound up performing with Simply Red singer Mick Hucknall filling in for Stewart. That same lineup mounted a partial Faces reunion tour in 2010 and 2011.
Meanwhile, McLagan tells ABC News Radio that he's excited about the new and expansive Small Faces box set, Here Come the Nice , that was released earlier this year. The collection gathers together a wide variety of rare recordings the British rockers made for the U.K.'s Immediate label from 1967 to 1969.
"It includes four CDs of previously unreleased material -- some stuff I hadn't even heard, mainly us working on songs in the studio," McLagan explains. He adds that the package also features "four vinyl 45s, two posters, postcards, a book of all the lyrics with photographs, and another hardback book which tells the story of how this collection came to be put together."
McLagan and Jones both contributed their input into the project, which was overseen by Rob Caiger , who Ian says took years putting the set together. "He's done a wonderful job," adds McLagan.
Meanwhile, Ian is gearing up to release a solo album titled United States with his longtime backing group The Bump Band this June. They'll be promoting the upcoming release with a couple of concerts this Thursday during the South by Southwest festival in McLagan's adopted hometown of Austin, Texas. Ian and The Bump Band will play an early show at The Lucky Lounge, where the group performs regularly for free, and a late gig as part of a Yep Roc Records showcase at The Continental Club.
Copyright 2014 ABC News Radio