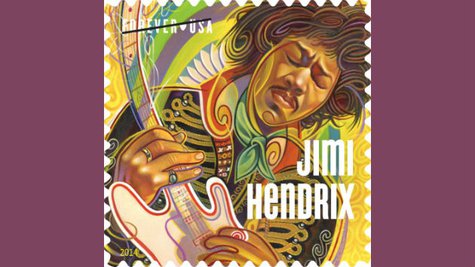 Tonight in Austin, Texas, the new U.S. postage stamp honoring Jimi Hendrix will officially be introduced during a special ceremony as part of the South by Southwest festival, but you can check out its design now online. As previously reported, the unveiling event will take place at Austin's Butler Park and will be followed by a star-studded tribute concert that's free and open to the public. Jimi's sister Janie Hendrix will be on hand to participate in the unveiling.
The stamp features a stylized painting of the late rock legend, showing him playing his guitar and surrounded by colorful swirls and stripes. Among the many artists slated to perform at the show, dubbed A Jimi Hendrix Celebration, are The Doors ' Robby Krieger , Slash , Paul McCartney touring guitarist Rusty Anderson , Dave and Phil Alvin of The Blasters , Jane's Addiction frontman Perry Farrell and founding MC5 guitarist Wayne Kramer , who also is curating the tribute.
The Hendrix stamp, which is a limited-edition "Forever" stamp, is part of the U.S. Postal Service's Music Icons series. It went on sale today at post offices across the country, and also can be bought online at USPS.com/stamps at eBay.com/stamps.
Copyright 2014 ABC News Radio