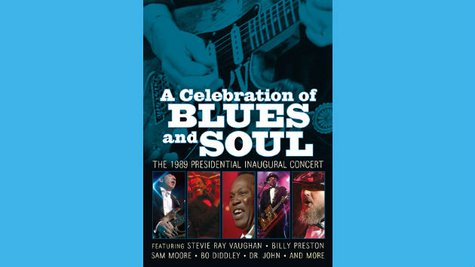 An expanded version of a recent PBS special documenting a star-packed concert commemorating the 1989 inauguration of President George H.W. Bush will be released as a DVD on May 6. A Celebration of Blues and Soul: The 1989 Presidential Inaugural Concert features performances by an impressive lineup of legendary musicians, including Stevie Ray Vaughan and Double Trouble , The Rolling Stones ' Ronnie Wood , Sam Moore , Bo Diddley , Billy Preston , Willie Dixon , Dr. John and Percy Sledge , among many others.
The show, which took place on January 21, 1989, was organized and hosted by Bush adviser Lee Atwater , the then-chairman of the Republican National Committee who also was a blues aficionado and guitar player. The event boasted a variety of onstage collaborations, including Wood performing alongside Bo Diddley, Dixon and soul great William Bell ; Vaughan and Double Trouble teaming up with bluesman Albert Collins and Stevie Ray's brother Jimmie ; and Preston duetting with Carla Thomas .
Other respected musicians who also performed at the concert include Eddie Floyd , Delbert McClinton and Booker T & the MG's members Steve Cropper and Donald "Duck" Dunn .
The DVD includes an hour's worth of footage not shown on PBS. In addition the release features an essay by music historian Peter Guralnick , liner notes penned by one-time Washington Post music writer Richard Harrington and a photo gallery of previously unseen pics from the concert. A Celebration of Blues and Soul lists at $19.98 but can be pre-ordered now for a discounted price of $16.98 at ShoutFactory.com .
Here is the full list of songs featured on the A Celebration of Blues and Soul DVD:
"Any Day Now" -- Chuck Jackson
"I Don't Want To Cry" -- Chuck Jackson
"When a Man Loves a Woman" -- Percy Sledge
"Right Place, Wrong Time" -- Dr. John
"747" -- Joe Louis Walker
"Hoochie Coochie Man" -- Willie Dixon with Albert Collins, Delbert McClinton, Joe Louis Walker
"Wang Dang Doodle" -- Koko Taylor and Willie Dixon with Cash McCall, Lafayette Leake and Ronnie Wood
"Bo Diddley" -- Bo Diddley
"I'm a Man" -- Bo Diddley
"Hey Bo Diddley" -- Bo Diddley with Ronnie Wood
"Born Under a Bad Sign" -- William Bell with Ronnie Wood
"B-A-B-Y" -- Carla Thomas
"When Something Is Wrong with My Baby" -- Carla Thomas and Billy Preston
"Knock on Wood" -- Eddie Floyd
"Soul Man" -- Sam Moore
"Just a Little Bit" -- Delbert McClinton
"Standing on Shaky Ground" -- Delbert McClinton
"Maybe Someday" -- Delbert McClinton
"B-Movie Boxcar Blues" -- Delbert McClinton
"Frosty" -- Albert Collins, Stevie Ray Vaughan & Double Trouble, Jimmie Vaughan
"Texas Flood" -- Stevie Ray Vaughan & Double Trouble, Jimmie Vaughan
"Love Struck Baby" -- Stevie Ray Vaughan & Double Trouble, Jimmie Vaughan
"Superstition" -- Stevie Ray Vaughan & Double Trouble
"Scuttle Buttin'" -- Stevie Ray Vaughan & Double Trouble
Copyright 2014 ABC News Radio