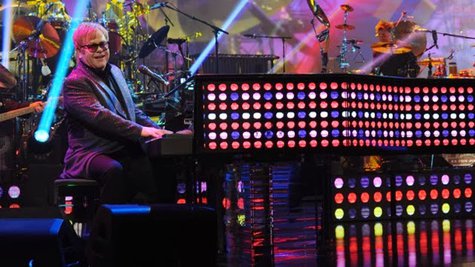 Elton John will be walking down the aisle at some point this spring, but he won't exactly be a groomzilla. The music legend says tying the knot with his longtime partner David Furnish "won't be a big occasion."
John and Furnish have been together since 1993, and entered into a civil partnership in 2005. But now that same-sex marriage is going to be legal in the U.K. starting on March 29, the couple plan to take full advantage of it. "When we get back to England in the springtime, we'll get married," Elton tells USA Today , though the usually over-the-top performer adds, "It won't be a big occasion. It will be private."
He continues, "In my lifetime, I never thought I'd be able to have a civil partnership and also be able to marry my partner. You bet I'm going to take advantage of the laws that so many people have fought to change over the years. I'm thrilled." John and Furnish have two sons, Zachary and Elijah .
Meanwhile, you'll be able to watch Elton in action tonight as The Million Dollar Piano , a film documenting his current Las Vegas show, will be screened in movie theaters nationwide starting at 7 p.m. local time. If you've never gotten a chance to visit Las Vegas and see the show, this will give you a chance to check out John as he performs all his greatest hits on a high-tech piano that incorporates 68 LED video screens; it took four years to build.
"It focuses on the music from the entire catalog of my career [and] I'm playing something that would go in the Smithsonian," Elton says of the show.
In addition to the entire Million Dollar Piano show, the presentation in theaters also will include an exclusive behind-the-scenes look at the making of John's classic 1973 album Goodbye Yellow Brick Road , which is being re-released next week.
If you're not able to see the movie tonight, it'll also air in select theaters on March 26.
Copyright 2014 ABC News Radio