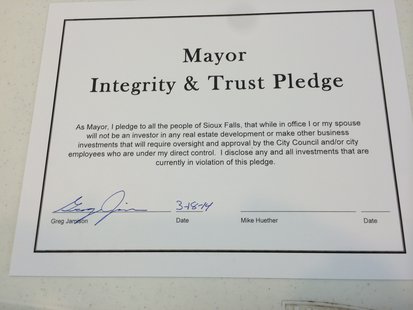 Sioux Falls, SD (KELO-AM) Mayoral candidate Greg Jamison has signed a pledge to never use his position as mayor for an unfair advantage to make money in booming Sioux Falls.
He is urging his opponent, incumbent Mayor Mike Huether to take the pledge, although he wants to make it clear that he is not accusing Huether of anything. Jamison just thinks it's the right thing for both of them to do moving forward.
Jamison signed what is called the "Mayor Integrity Trust Pledge." He says it means that he will not make personal investments into land or any other business where his decisions as mayor could give him an unfair advantage.
The election is April 8th.