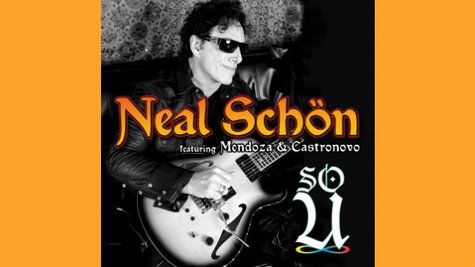 Journey guitarist Neal Schon has teamed up with his band's longtime drummer, Deen Castronovo , and veteran hard-rock bassist Marco Mendoza to record a new album titled So U that's scheduled to be released on May 20. The record is a collection of jazz-fusion and blues-rock inspired tracks, with lead vocals shared by Schon, Castronovo and Mendoza.

All three musicians co-wrote songs for the project, with additional contributions from Night Ranger / Damn Yankees singer/bassist Jack Blades . Schon previously joined forces with Castronovo and Mendoza in Soul Sirkus , a short-lived supergroup that existed from 2003 to 2005 and also featured one-time Journey singer Jeff Scott Soto . Mendoza currently is a part of Thin Lizzy 's lineup and also is member of that band's spinoff group Black Star Riders . In addition, his resume includes stints with Whitesnake and Ted Nugent 's backing group.
Schon promises that three official videos will be released soon to accompany songs from So U . The album follows Neal's 2012 instrumental collection, The Calling .
Here is the full track list for So U :
"Take a Ride"
"So U"
"Exotica"
"What You Want"
"Love Finds a Way"
"On My Way"
"Serenity"
"Shelter"
"Big Ocean"
Copyright 2014 ABC News Radio