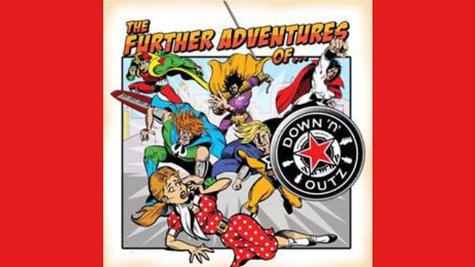 Def Leppard frontman Joe Elliott 's Mott the Hoople tribute group Down 'n' Outz is set to release a follow-up to its 2011 debut album, My Re-Generation . The Further Adventures Of… , which will hit stores on April 22 , will feature a variety of covers of songs by the legendary 1970s glam-rock act, as well as solo tunes by Mott frontman Ian Hunter and related spin-off projects.
Elliott formed Down 'n' Outz in 2009 to serve as the opening act at one of a series of Mott the Hoople reunion concerts in London. The band also features three members of the veteran U.K. hard-rock act The Quireboys -- guitarists Paul Guerin and Guy Griffin , and keyboardist Keith Weir -- as well as drummer Phil Martin . Following the release of its debut album, the group put out a DVD titled Live at Hammersmith Apollo .
The new album features renditions of such Mott the Hoople gems as "Rock and Roll Queen," "One of the Boys and "The Journey." The Further Adventures Of… was co-produced by Elliott and Ronan McHugh , and was recorded at the Def Leppard singer's studio, Joe's Garage.
Says Elliott of the new collection, "These songs make up a huge portion of who I am and I feel incredibly privileged to have been able to record them and hopefully give them a new lease of life, which, quite frankly, is long overdue."
Hunter, meanwhile, offers up some gushing praise for the album. "I'm blown away by these recordings," he says. "The solo by Paul Guerin on 'The Journey' is one of the best I've heard. These songs really suit Joe's voice also. It's a whole different side to him and the project gets my approval!"
Fans who pre-order The Further Adventures Of… via iTunes will be given immediate access to a free download of "Rock and Roll Queen," which is the album's lead single. The iTunes version of the record also includes a pair of bonus tracks.
Down 'n' Outz are planning to schedule some tour dates in support of the new record later this year and in 2015.
Here's the full track list for The Further Adventures Of... album:
"Rock and Roll Queen"
"Stiff Upper Lip"
"Marionette"
"One of the Boys"
"Whizz Kid"
"Violence"
"The Journey"
"Drivin' Sister"
"The Original Mixed-Up Kid"
"Crash Street Kidds"
"Broadside Outcasts"
"The Revenge of the Shipwrecked Hedgehog"
"Sea Diver" (iTunes Bonus Track)
"One of the Boys" (radio edit) (iTunes Bonus Track)
Copyright 2014 ABC News Radio