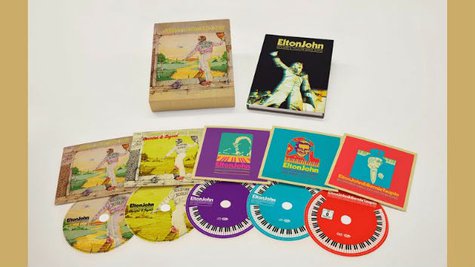 Tuesday marks Elton John 's 67th birthday, but his fans are getting a gift too. A huge deluxe reissue of his massively successful double album Goodbye Yellow Brick Road hits stores today.
The album, which is chock-full of classics such as the title track, "Bennie & the Jets," "Saturday Night's Alright for Fighting" and "Candle in the Wind," is available on CD, vinyl, limited-edition yellow vinyl and in a box set.
That box set contains five discs, including a CD version of Live in Hammersmith 1973 , a disc of B-sides and bonus tracks and a DVD of the 1973 movie Elton John and Bernie Taupin Say Goodbye to Norma Jean and Other Things. Also included is a 100-page illustrated hardback book filled with new interviews from Elton and lyricist Bernie Taupin , as well as photos and memorabilia.
One of the most interesting parts of the deluxe edition and the box set is that they both come with nine new recordings of classic songs from Goodbye Yellow Brick Road covered by some of today's acts, including country stars The Band Perry , Hunter Hayes and Zac Brown Band , British pop stars Ed Sheeran and Emeli Sandé , pop/rock band Fall Out Boy , R&B star Miguel and rapper Wale .
Goodbye Yellow Brick Road is considered one of John's best albums, and the Rock and Roll Hall of Famer says that's because he, Taupin and his band had everything down to a science. "By the time we got to making Goodbye Yellow Brick Road , the machine was so well-oiled within the four musicians and the producer, Gus Dudgeon , it was perfection," explains Elton. "It was the height of our powers."
After writing songs for a few weeks in Jamaica, Elton, Bernie and the band decamped to the same chateau in France where he'd recorded some of his previous records, and things came together very quickly, as Taupin describes.
"When the band were having breakfast, there was a piano in there, and I would come down and grab a cup of coffee or something and give Elton a couple of lyrics that I'd been working on that morning," he recalls. John adds, "I would write at breakfast, at the table. The band would get up and, as I was writing, they'd finish their breakfast, join in and by the time breakfast was over, we'd written and rehearsed two songs, and we went in the studio and recorded them."
Out of those sessions came classics like "Candle in the Wind," which Taupin says is "one of the best songs we'd ever written." He adds, "I think it's an incredible marriage of melody and lyric. People obviously assumed that I was a Marilyn Monroe fan, but she was simply a metaphor, for me, for fame."
As for "Bennie and the Jets," that was a surprise hit, since Elton was adamant that it not be released as a single, even though his record company insisted.
"They fought and fought and fought, and I turned them down so many times," he recalls. "Until they told me that the record had gone to number one on the R&B station in Detroit. And for me, a white boy from [England] who'd grown up loving black music and played the blues and R&B all my life, I went, 'Oh!' So I let them have their way, and it shows you that, as an artist, sometimes you know nothing!"
Taupin, meanwhile, points out, "When we did the Yellow Brick Road album, I think that really was when we started thinking, 'We might be pretty good.'" John agrees, adding, "It was an incredible time of my life and that makes me feel emotional -- not sad, but incredibly happy."
Copyright 2014 ABC News Radio