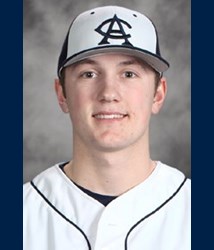 BURNSVILLE, Minn. (KWSN) – Augustana baseball first basemen Alex Fink was named Northern Sun Intercollegiate Conference Player of the Week by the league in a release on Wednesday.
swung a hot bat this past week for the Vikings, helping guide the team to a 4-1 record as Augustana kicked off the home portion of its 2014 schedule.
The Springfield, Minn. native started his week off going 3 for 4 with a career-tying four RBI in a 16-5 home-opening win against Northwestern (Iowa) on Mar. 19. Fink followed up the Northwestern game with two three-hit games in a doubleheader on Saturday against Northern State to open up NSIC play.
The sophomore first basemen helped the Vikings get the 3-1 series win on Saturday with a 2-for-2 performance in a 6-1 win in game one against the Wolves. Fink also scored two runs in the victory, tying a season high.For the week, Fink had a .579 batting average, drove in eight runs, and scored seven runs for Augustana.
The former Springfield High standout had multi-hit games in four of the five games.Fink joins Ryan Hamilton and Marcus O'Neill, who received the honors earlier this season on Feb. 5.
The Vikings return to action this upcoming Wednesday for a non-conference doubleheader against Winona State. First pitch is set for 2 p.m.
Courtesy: Augustana College and NSIC