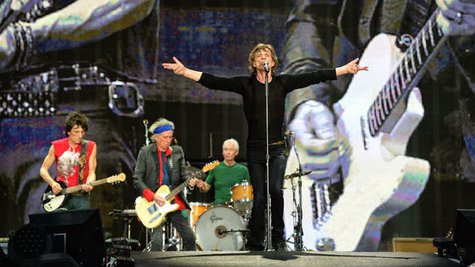 After more than 50 years on the road, you'd think there's no major nation the Rolling Stones haven't played. You'd be wrong -- but that's just changed, with the announcement that the Stones are confirmed to deliver their debut performance in Israel on June 4.
The show will take place in Tel Aviv's Park Hayarkon, according to the Jerusalem Post . Locking in the gig certainly wasn't easy: promoter Shuki Weiss , who made the announcement Tuesday morning, said he first reached out to the Stones in 1988, when he asked them to perform as part of Israel's 40th anniversary celebrations.
News of the Israeli date comes after the Rolling Stones postponed scheduled shows in Australia and New Zealand following the death last week of Mick Jagger 's lover, L'Wren Scott . Michael Gudinski , head of Frontier Touring, the company that's co-organizing the trek, tells Billboard that the rock legends likely will head back Down Under before the end of the year.
Copyright 2014 ABC News Radio