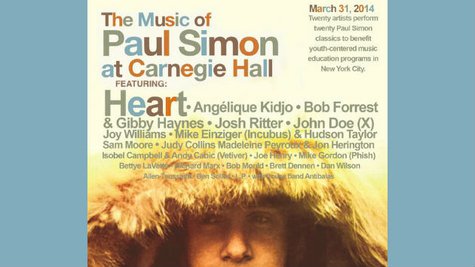 Heart 's Ann and Nancy Wilson have joined the star-studded lineup of the Paul Simon tribute concert that's scheduled to take place this Monday, March 31, at New York City's famous Carnegie Hall. The event, dubbed "The Music of Paul Simon at Carnegie Hall," is the latest in a series of annual tribute shows organized by local entrepreneur and philanthropist Michael Dorf . It will feature more than 20 artists performing the lauded singer/songwriter's compositions.
An eclectic variety of other performers have signed on for the concert, including veteran folkie Judy Collins , soul legend Sam Moore , New Orleans great Allen Toussaint , '80s pop star Richard Marx , Steely Dan touring guitarist Jon Herington , Phish bassist Mike Gordon , X 's John Doe , Angelique Kidjo , ex- Husker Du frontman Bob Mould and Joy Williams of the country duo The Civil Wars , among others.
Speaking about the upcoming concert with ABC News Radio, Dorf says, "This is the 10th annual tribute I've done [at Carnegie Hall] honoring a songwriter of real stature by other songwriters who are terrific in their own right." He explains that one of the great things about these events is that attendees get "to hear the songs of the honoree done in a voice of other folk. It allows you to…get little nuances that were in the songs that maybe you didn't catch in the original version."
Dorf, who also is the founder of the City Winery restaurant and music-venue chain, says that it's up to the performers as to how they approach the song they're covering. "We very much want the artists, who are actually the ones paying tribute, to interpret as they like and allow them to express themselves," he explains.
Dorf tells ABC News Radio that some of the highlights of previous tribute shows were times when the honorees hit the stage themselves during the event, as was the case with Bruce Springsteen in 2007 and R.E.M. in 2009.
As for whether Simon might take part in the March 31 event, Dorf says he isn't sure, although he points out that "Paul attended the Simon & Garfunkel tribute I did at [New York's] Central Park SummerStage a few years ago, and he really liked the show." He adds that Simon is definitely aware of the tribute concert, adding that "for him to go from his house to Carnegie's not that far, so we're keeping our fingers crossed."
Tickets for the concert are still available at the Carnegie Hall box office and at CarnegieHall.org. VIP packages can be purchased at CarnegiePaulSimon.com , where you can check out the event's complete lineup.
Copyright 2014 ABC News Radio