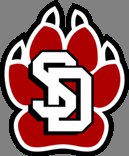 Bryan Boettcher
FORT WAYNE, Ind.—South Dakota's softball team split a pair of matches with first-place Fort Wayne Friday at IPFW Softball Field. The Coyotes (19-13, 2-3 Summit) won the opener 5-2, handing the Mastodons their third loss in the last 18 games. Fort Wayne (23-8, 4-1) took the nightcap 5-1. The rubber match starts at 10 a.m. (CDT) Saturday.
USD freshman Rachel Cue beat reigning Summit League Pitcher of the Week Miranda Kramer in the opening game. Cue (10-7) struck out nine, walked one and allowed eight hits. Kramer (12-5), who hadn't allowed a run in her last 17 innings of work, was tagged for the second-most runs in an outing this season.
Matley Jones homered off Kramer in the fourth inning that tied the game at 1-1. It was the second home run of the year for Jones. Christine Broders gave USD a 3-2 lead in the sixth with a two-run single to left. Katie Cochran followed with a two-run triple down the right field line to complete a four-run inning.
Fort Wayne shortstop Alex Bousque led off the third inning with a solo shot to left. The Mastodons later loaded the bases, but Cue caught Caitlyn DeLo looking to get out of the third.
Catcher Dani Pugh's sixth home run of the season put Fort Wayne back in front 2-1 in the fifth inning. Cue caught DeLo looking again to get out of a two-on, two-out jam. Cue retired seven of the final eight hitters she faced.
Broders had two hits in the opener and homered as one of three USD hits in game two. Broders and Cochran, who bat eighth and ninth, respectively, in the lineup, combined for five of USD's nine hits and five of the team's six RBIs during the twin bill.
Pitcher Megan Flenniken (11-3) struck out a season-high 12 in game two for the Mastodons. Her lone blemish was the bomb by Broders to start the third inning. Flenniken has allowed four runs in her last 10 starts spanning 60 innings (0.46 ERA).
Fort Wayne scored twice in the first and third innings and added a fifth run in the fifth. Audrey Minta had two doubles and three RBIs for the Mastodons. Fort Wayne had nine hits in the contest.