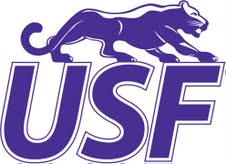 SOUTH SIOUX CITY, NEB. (KWSN): The University of Sioux Falls baseball team (11-7, 5-1 NSIC) split the first two games of a four-game series with Minot State today at Voss Field in South Sioux City, Neb. The Cougars notched a 5-0 win in the opener but the Beavers (7-8, 1-1 NSIC) bounced back to knock off USF 8-2 in the nightcap.
Game one belonged to Derek Fischer, as the veteran Sioux Falls right-hander tossed a two-hit shutout and Jeremy Varner had two hits to lead the Cougars to a 5-0 win over visiting Minot State. It's the second complete game victory of the season for Fischer (4-1), who carried a no-hitter into the fourth inning before Tyler Stevenson hit a two-out line drive to center.
Fischer struck out three, walked one and hit a batter in the 88-pitch gem that extended his consecutive scoreless innings streak to 17 and two-thirds. His strong effort today also lowered his season ERA to 1.26, while opposing hitters are batting just .246 against the former Brandon Valley standout.
Fischer has notched 25 strikeouts in six appearances (five starts), while issuing only six base on balls in a team-high 35.2 innings of work.
Fischer rolled through the first three innings on 46 pitches and got stronger as the game went along. He needed just a combined 14 pitches to retire the Beavers in the sixth and seventh innings.
Cougar senior first baseman Austin Goodenow turned in the defensive play of the game in the top of the sixth, when Gunner Peterson's throw on a 6-3 ground out sailed high. Goodenow left his feet to snare the ball, which appeared headed toward the Minot State dugout, and proceeded to use his entire six-foot-two inch frame to apply the tag to Minot's Nicholas Hammerl.
The game was scoreless until the home half of the third, when Anthony Lopez drew a five-pitch walk before advancing to third on Peterson's line drive single. Lopez scored on a wild pitch and Noah Durkin and Jeremy Varner both slapped RBI singles to give USF the 3-0 lead. Fischer surrendered a two-out single in the fourth, but that threat was extinguished when he picked the runner off at first base.
Ryan Fobes led off the Cougars' half of the fifth with a base hit lofted to right field that resulted in a "Three Stooges" moment for MSU, as three Beavers rushed to the outfield only to see the ball land in the middle of their triangle. Fobes scored on a balk before Dylan Dwyer jumped to the keystone sack on a Minot error coupled with a passed ball. Goodenow smacked a line drive RBI single that plated Dwyer, chased Beaver starting pitcher Josh Larsen (0-3) and capped the scoring for the Cougars.
The Cougars tallied seven hits in the contest and Varner led the way with a 2-for-3, RBI outing at the plate. Durkin, Varner and Goodenow were each credited with a run batted in. Things didn't go nearly as well for USF in game two, as A.J. Begay hit a three-run homer in the first inning off of Cougar starter Noah Coleman to lift the Beavers to an 8-2 wire-to-wire victory.Coleman (1-2) allowed six runs on six hits in seven innings with one walk and no strikeouts. Jeremy Varner tossed two innings of relief and gave up two runs on five hits while fanning four batters. Minot State junior Brock McCashland held the Cougar bats in check, allowing a single run on just three hits in eighth innings. Leading 4-1 entering the top of the eighth, Minot State tacked on three more runs in the frame and a single tally in the ninth to put the game out of reach.Austin Richey and Anthony Lopez each had an RBI base knock for USF, while Durkin and Fobes accounted for the Cougars' other two hits. USF and Minot State will wrap-up the series tomorrow at Voss Field with a twinbill slated to begin at noon.
Courtesy: University of Sioux Falls